Wirklichkeit Books, founded in 2019 in Berlin, publishes books to find words, images and actions for a new actuality. The catalogue includes titles by young artists side by side with historic positions relating to poetry, play, language, art. Publishing is understood as an experimental and joyful act that engages with the travel of ideas and is seen as a way of creating Wirklichkeit.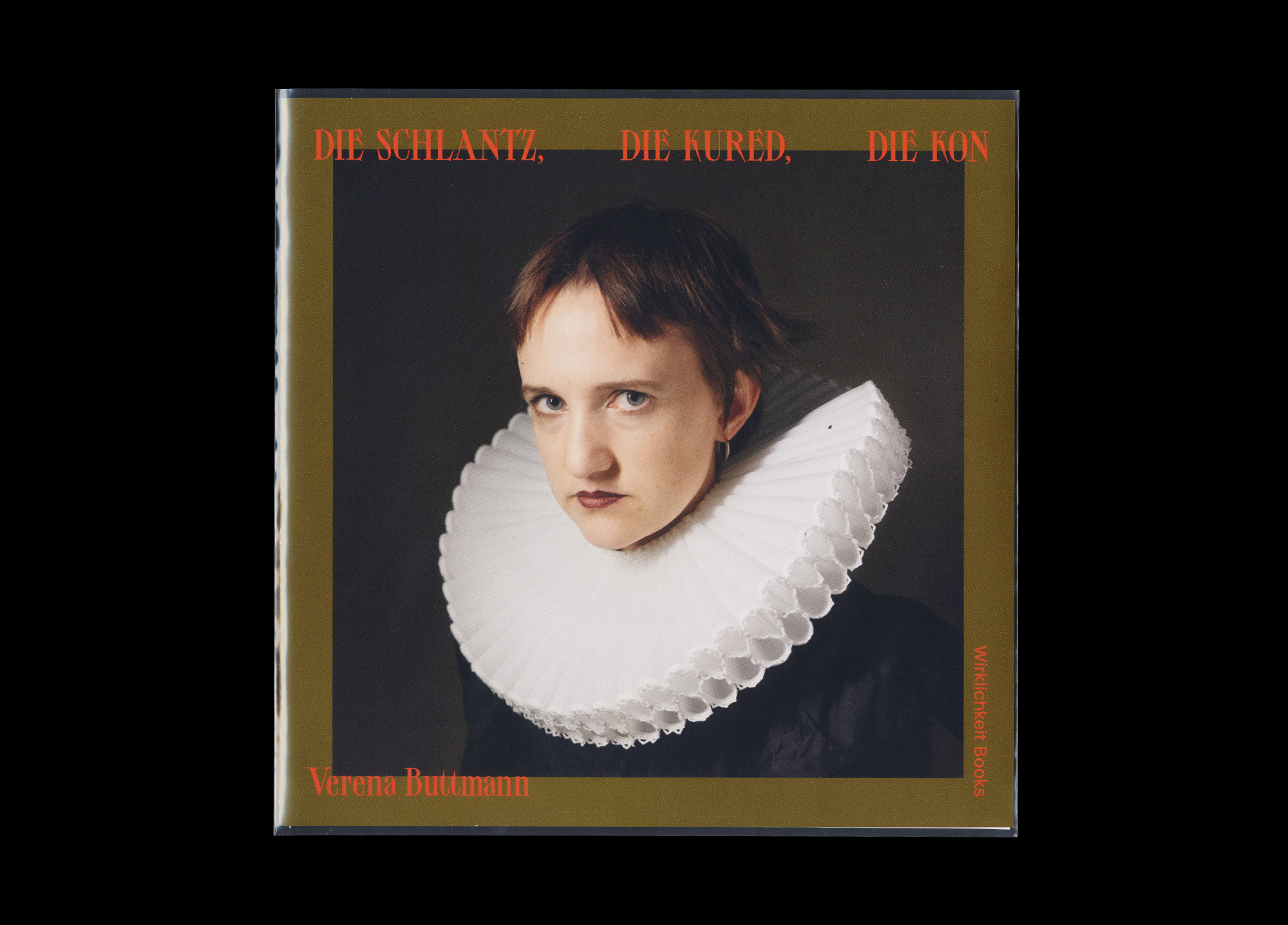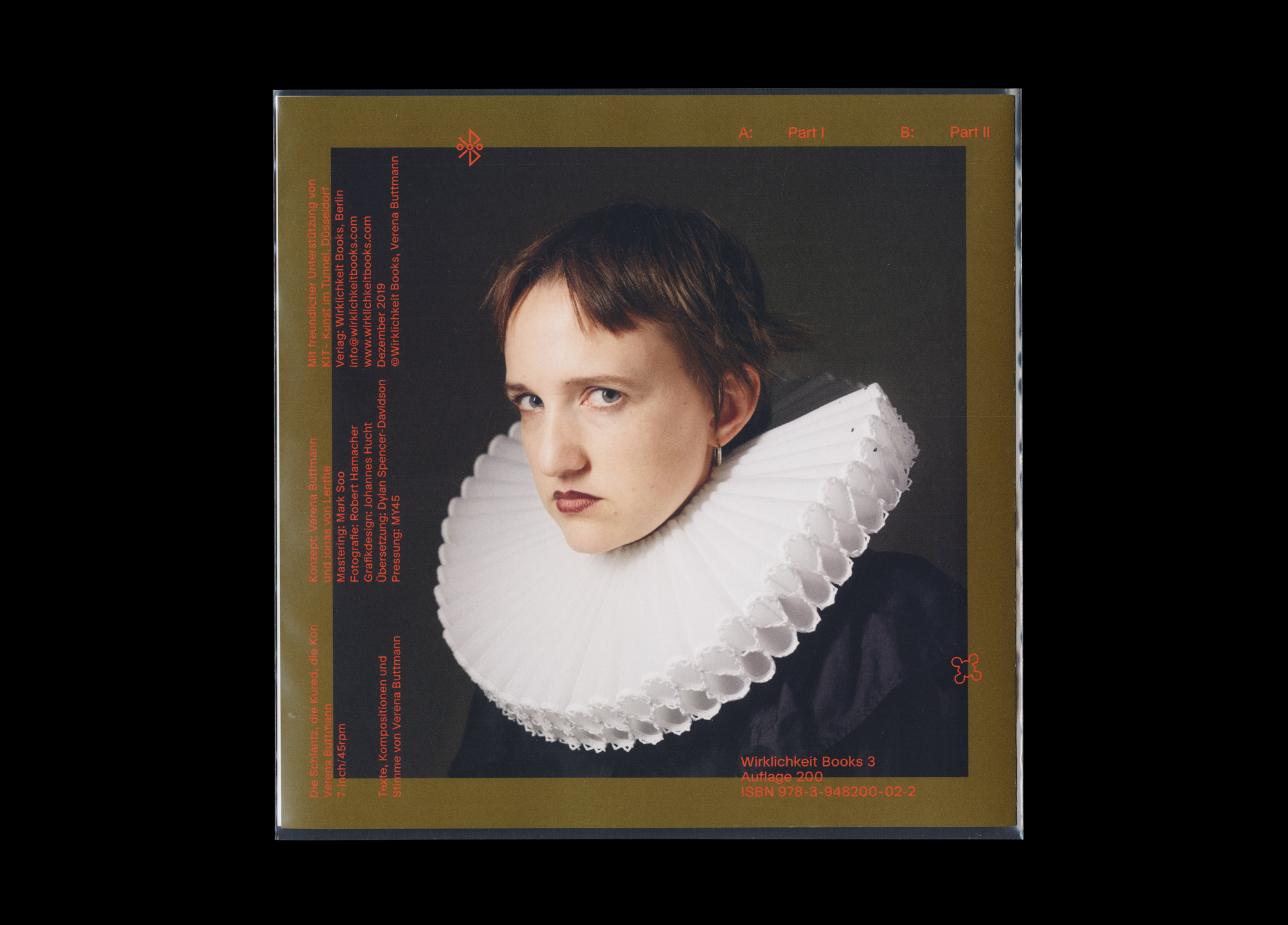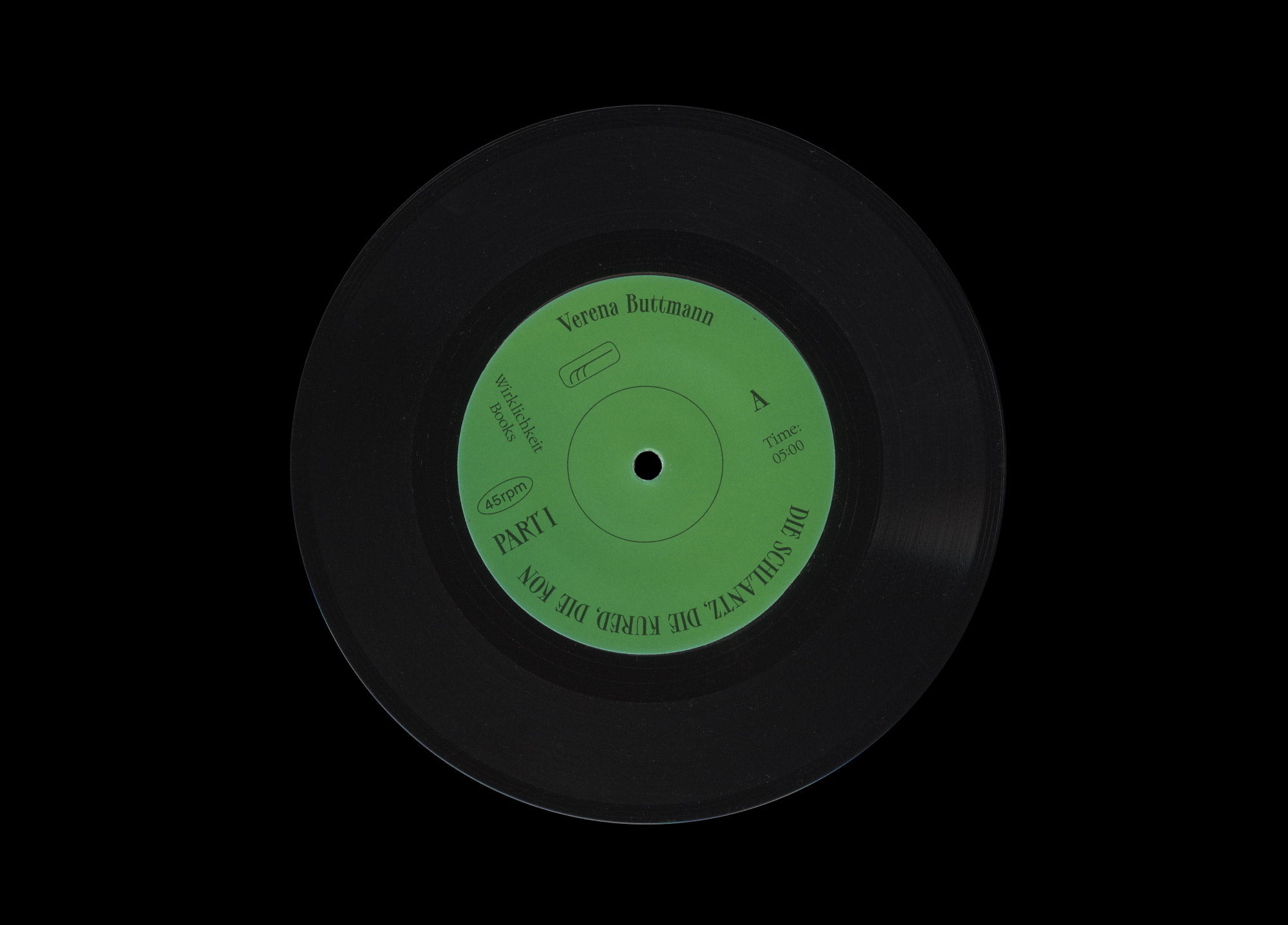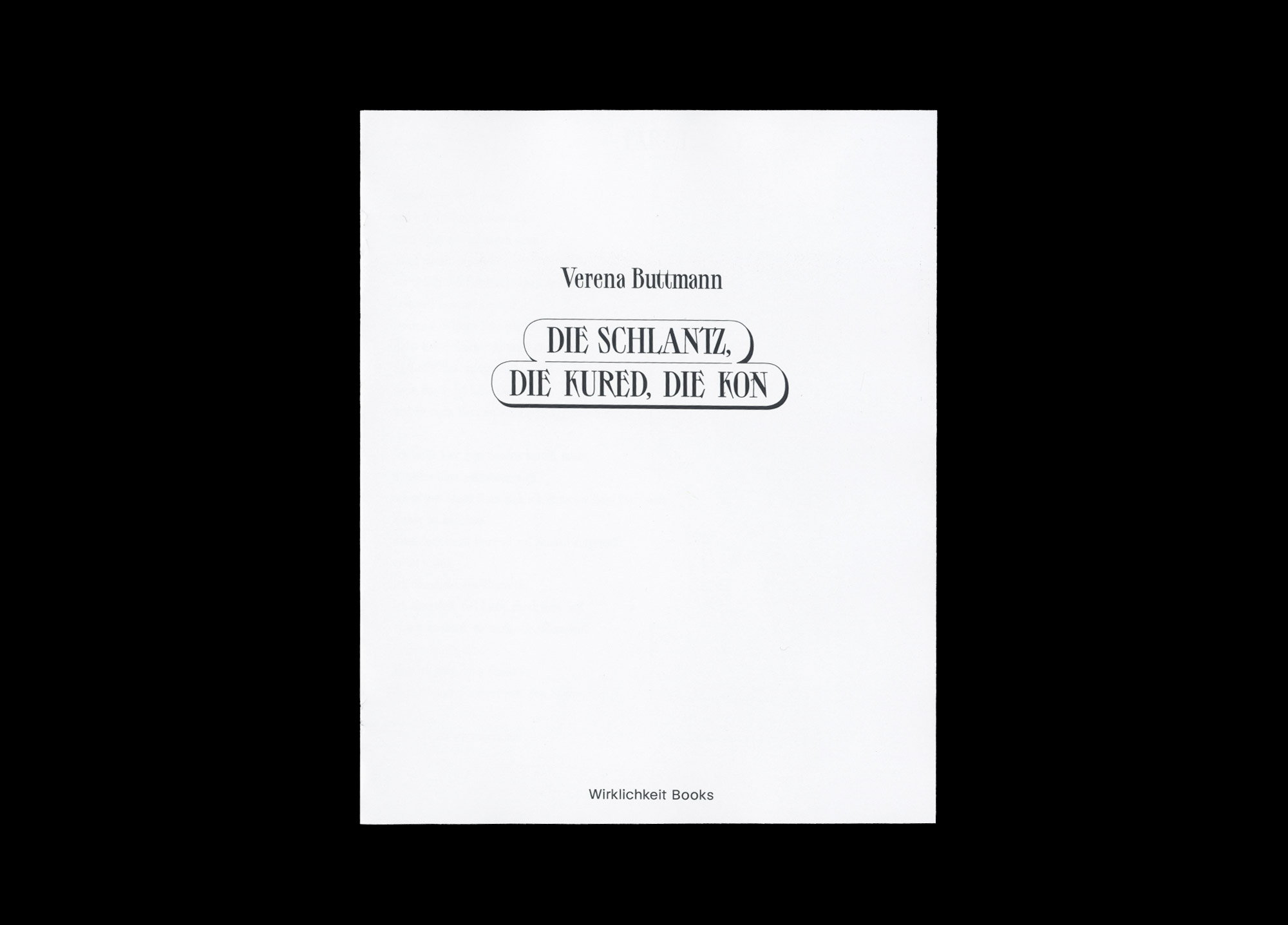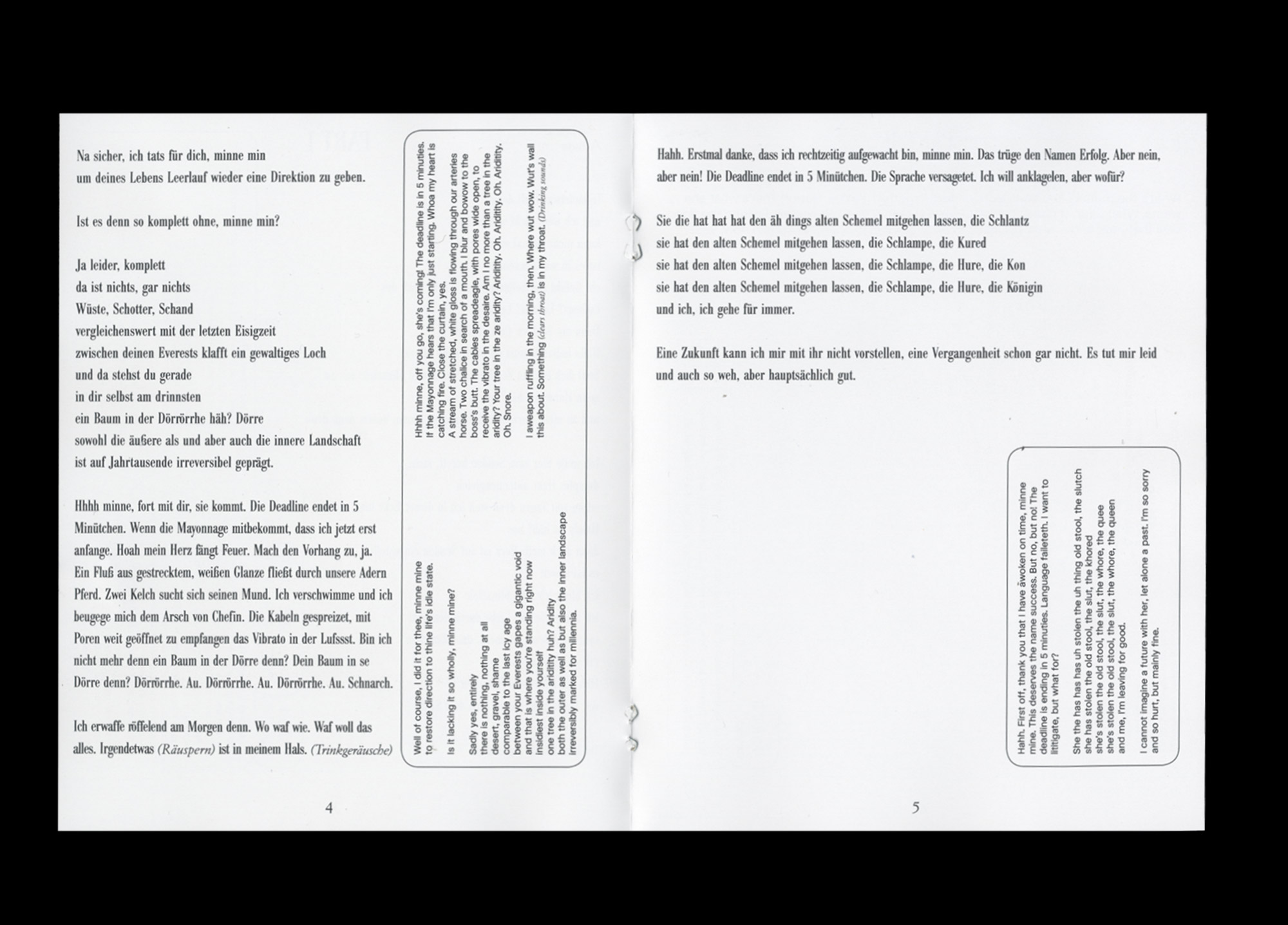 0 of 0
Verena Buttmann
Die Schlantz, die Kured, die Kon
"Hhhh Minne, off you go, she's coming! ...
Verena Buttmann
Die Schlantz, die Kured, die Kon
"Hhhh Minne, off you go, she's coming! The deadline is in 5 minuties. If the Mayonnage hears that I'm only just starting. Hoah my heart is catching fire. Close the curtain, yes."
As the mayonnage approaches, the excitement grows. Without ever taking on a tangible form, her presence in Verena Buttmann's audio piece "Die Schlantz, die Kured, die Kon" (The Slutch, The Khored, The Quee) lies above the scenario. The mayonnage is many things: the object of fear, the last salvation, a state of oppression, the bridge to a remote world or a dreamlike projection.
On her record, the artist Verena Buttmann creates a social cosmos between theatre-like staging and private space. A dialogical poem and a scenic piece of music reveal a narrative that follows a peculiar temporal dimension and linguistic logic. Verena Buttmann takes language to the edge of meaning, where its musical quality unfolds.
The publication contains a 7'' vinyl record, a brochure with the original text in German and the English translation, as well as a download link.
Listen online: verenabuttmann.bandcamp.com
Text, composition, vocals: Verena Buttmann
Graphic design: Johannes Hucht
Photography: Robert Hamacher
Mastering: Mark Soo
Translation: Dylan Spencer-Davidson

14€

November 2019
ISBN 9783948200022
7" Vinyl with 8 page booklet and download link
19 x 19 cm
German, English
Edition of 200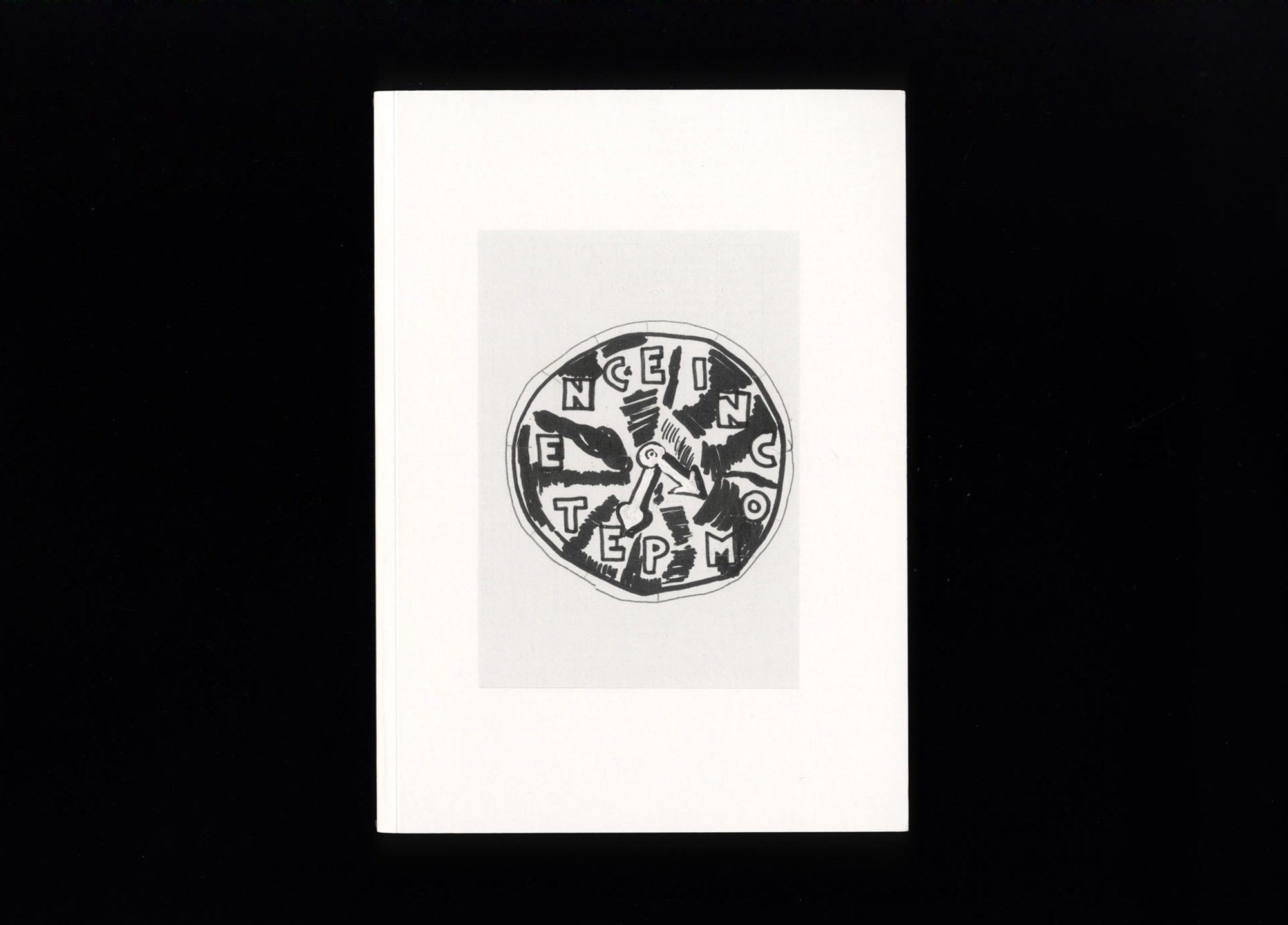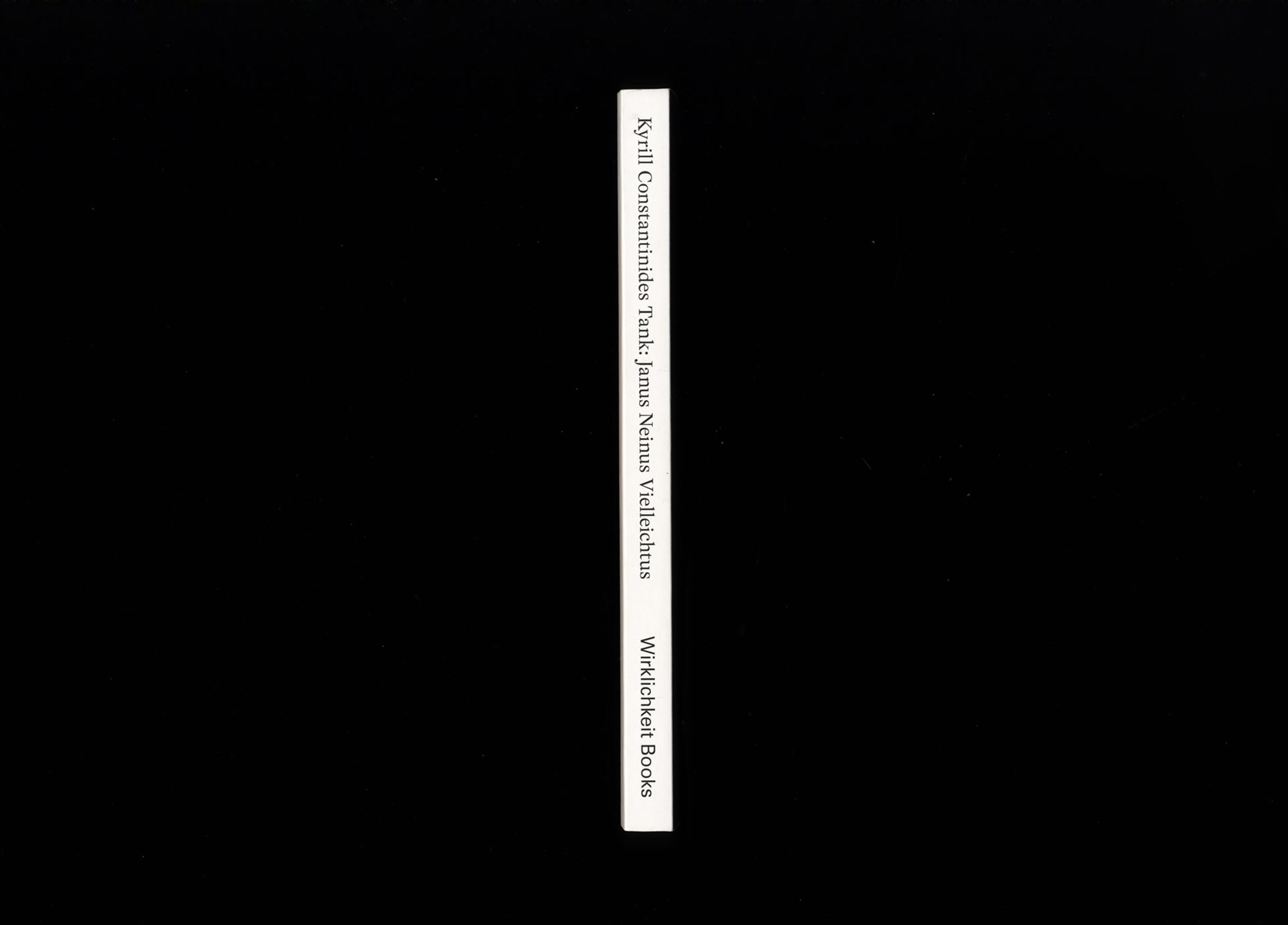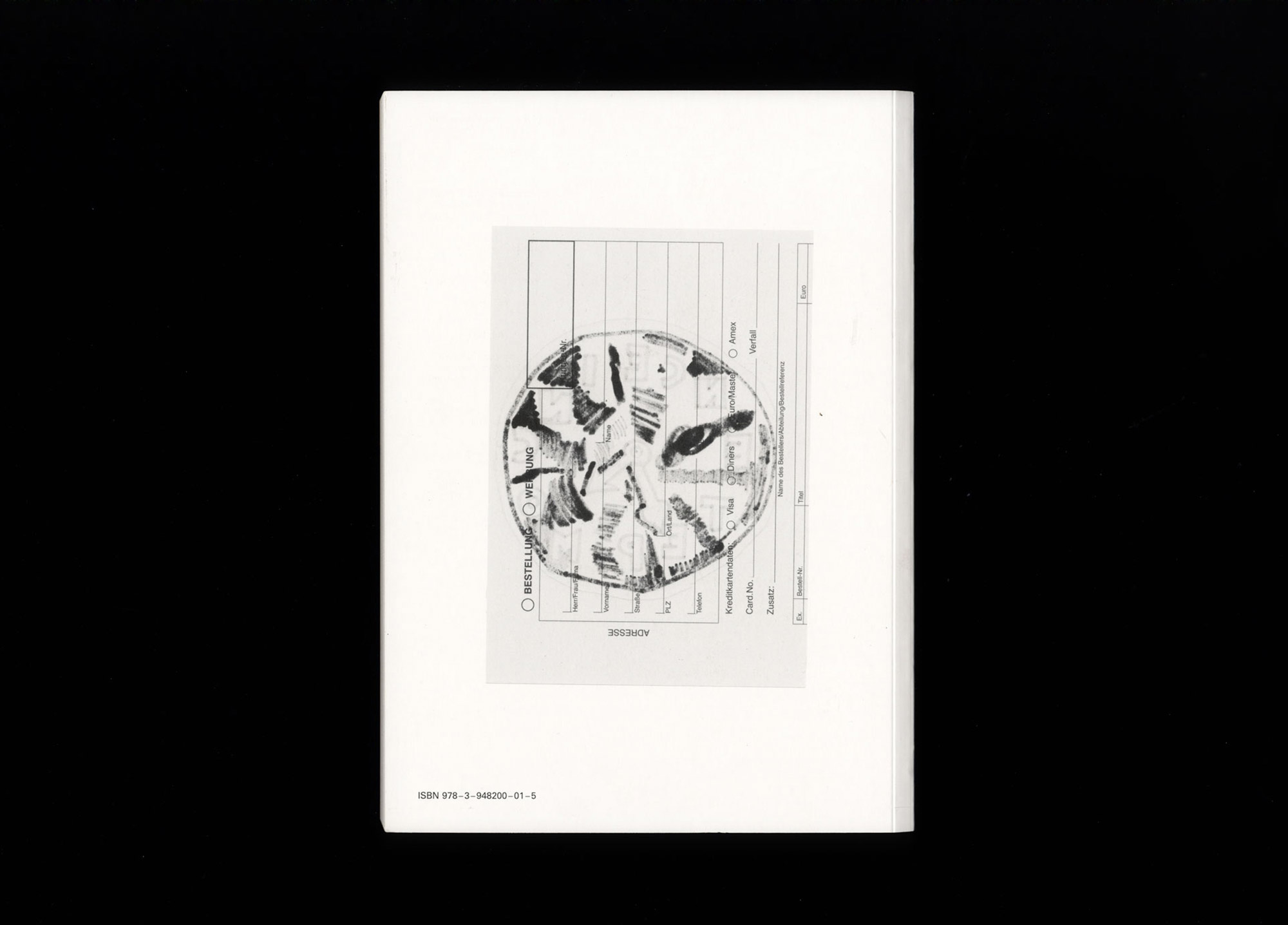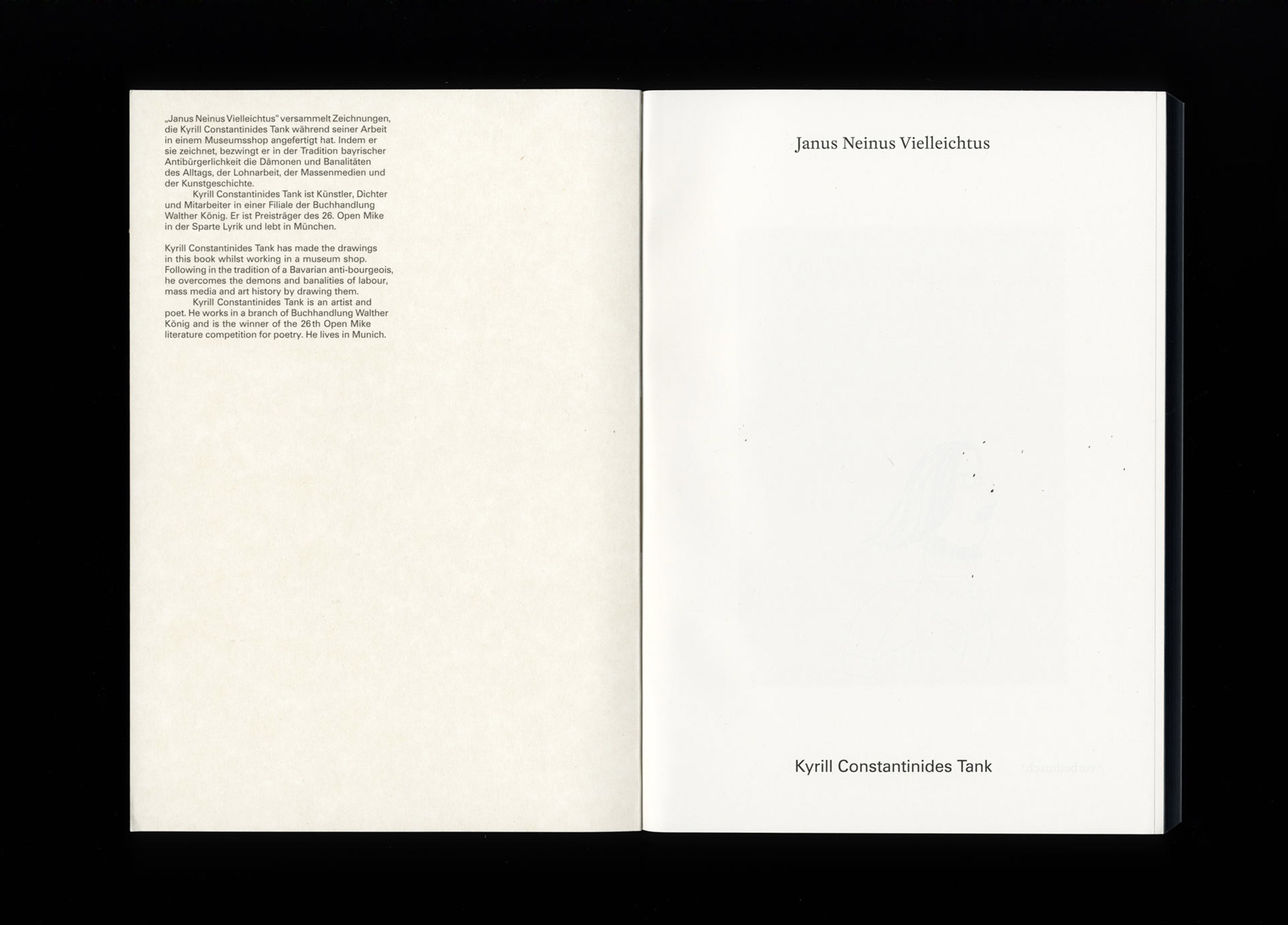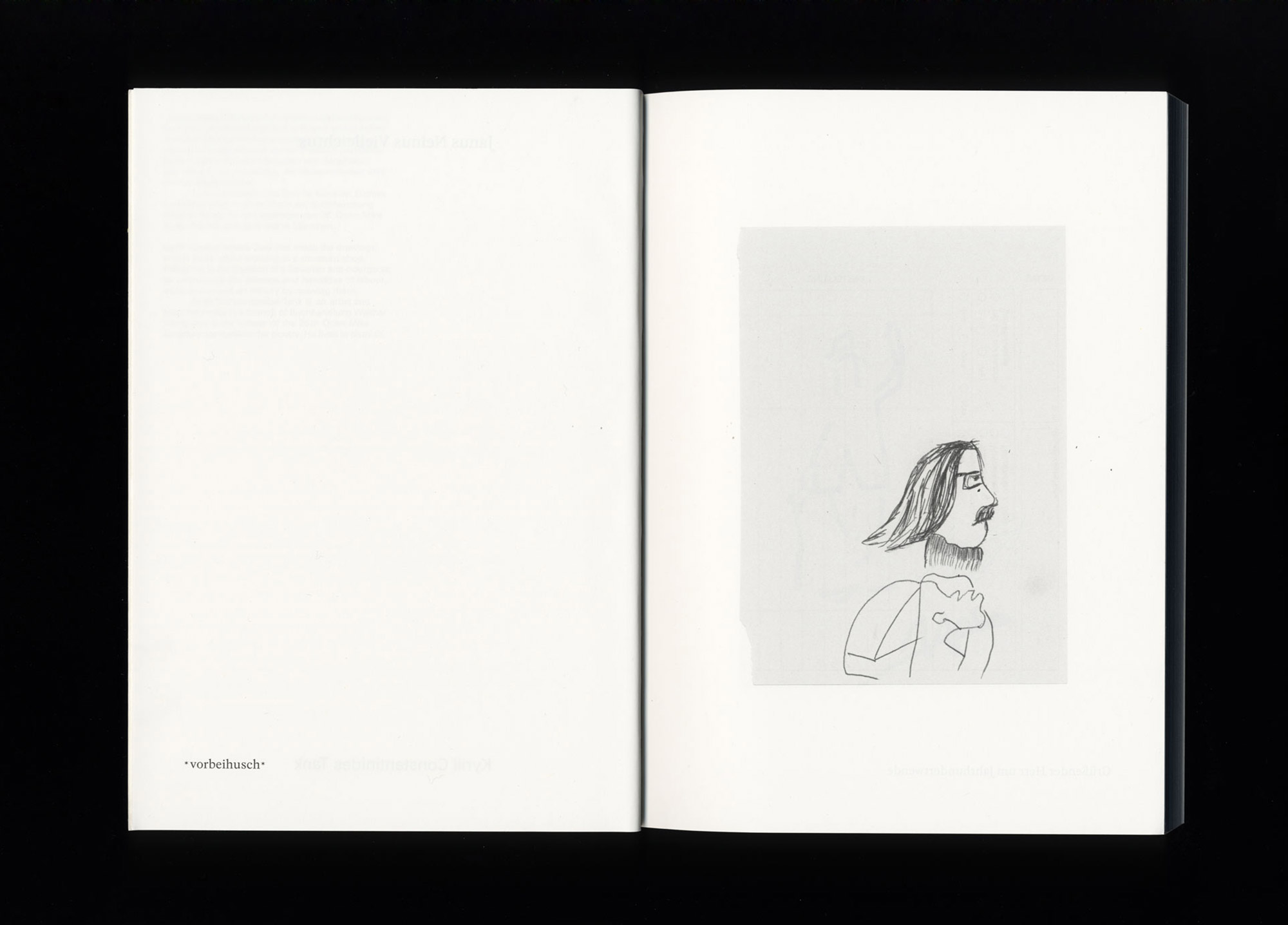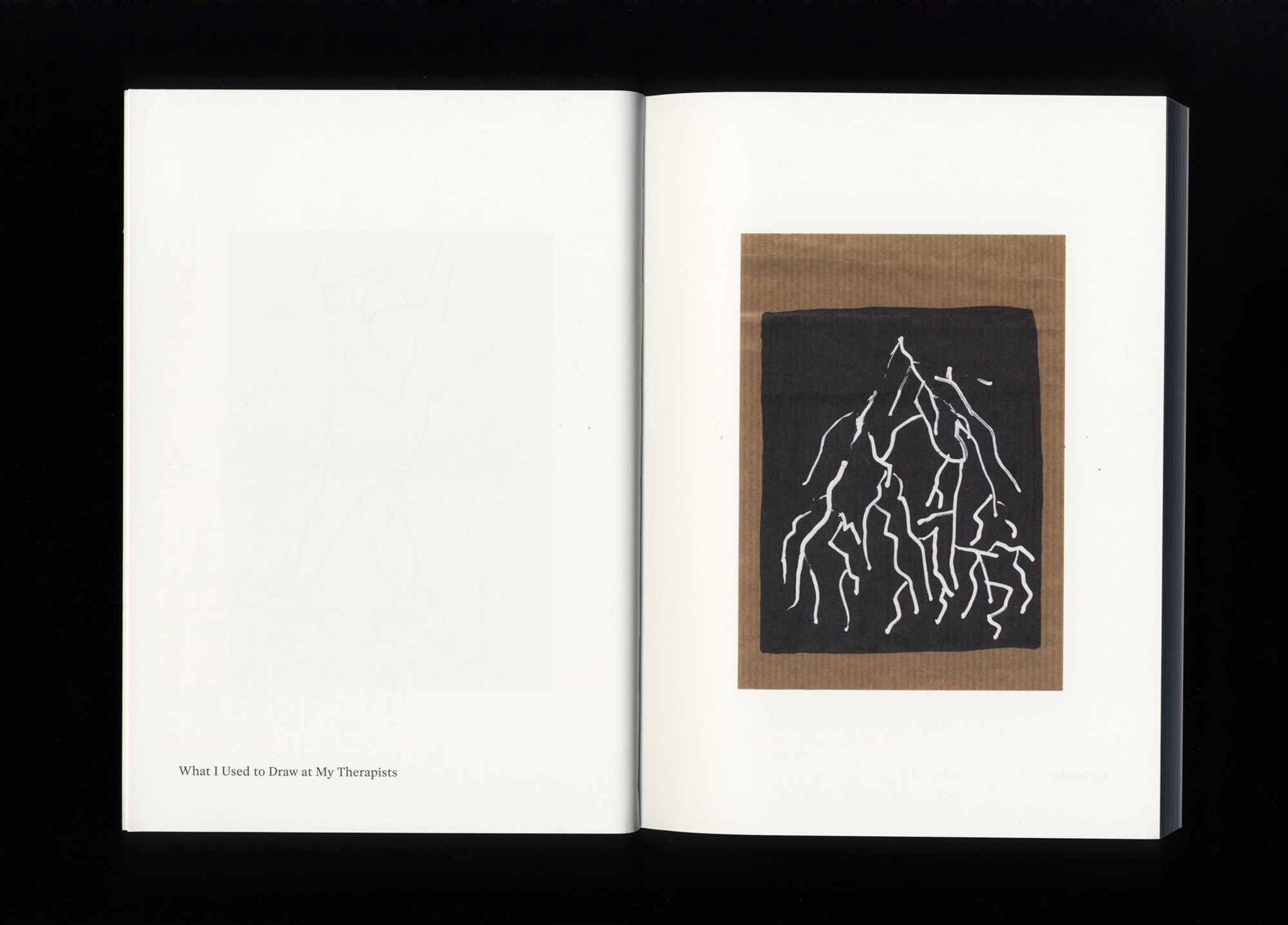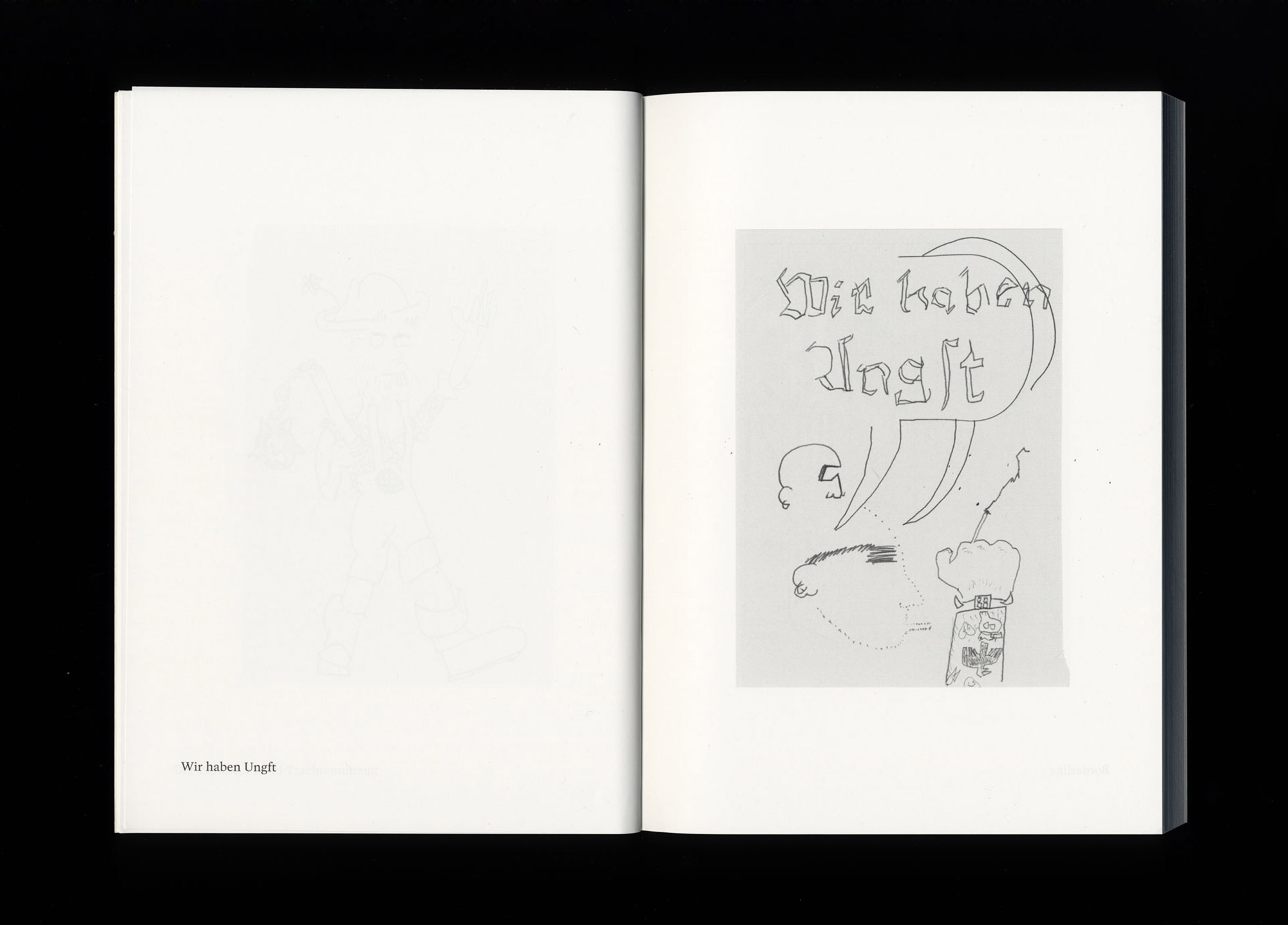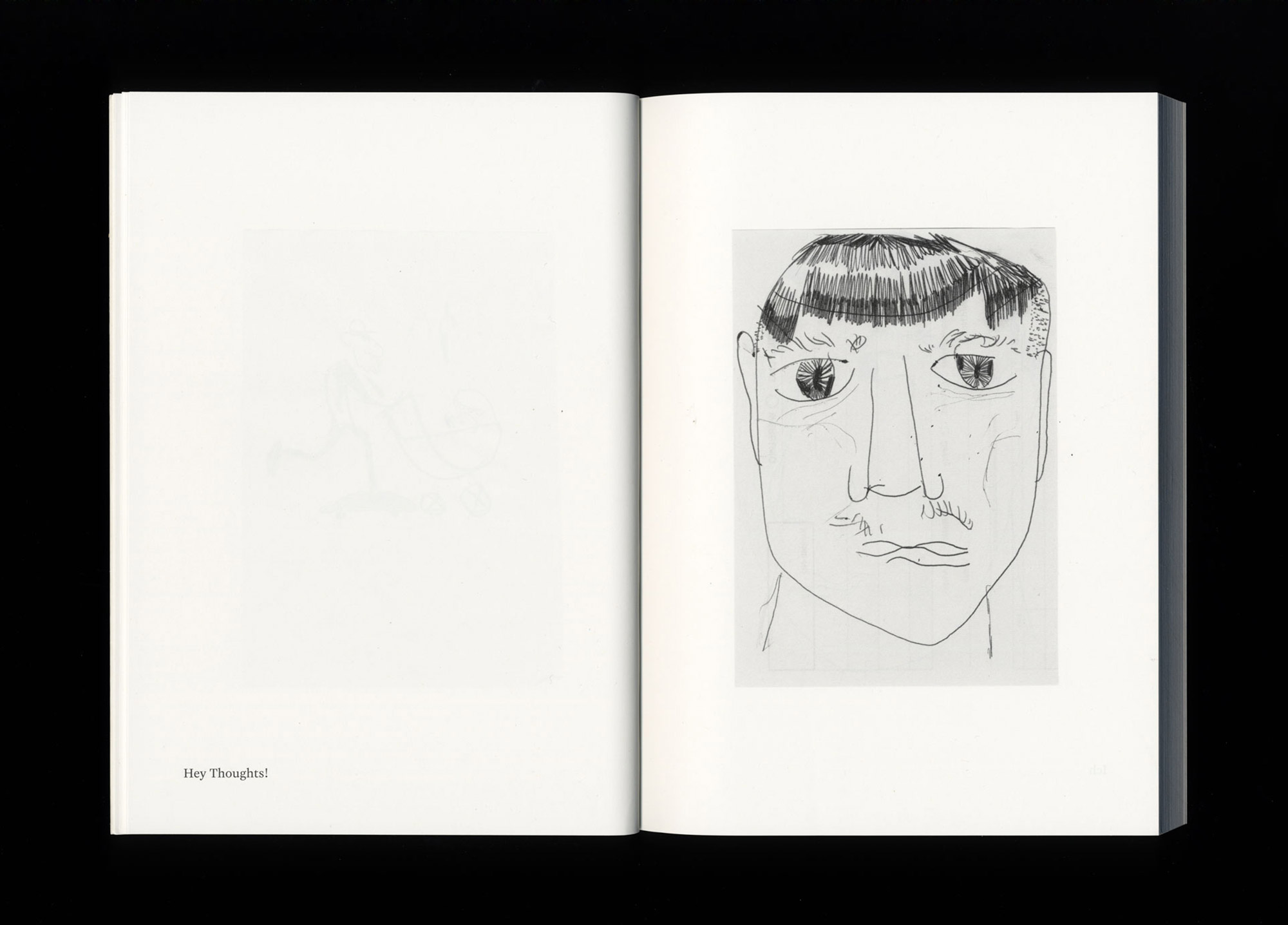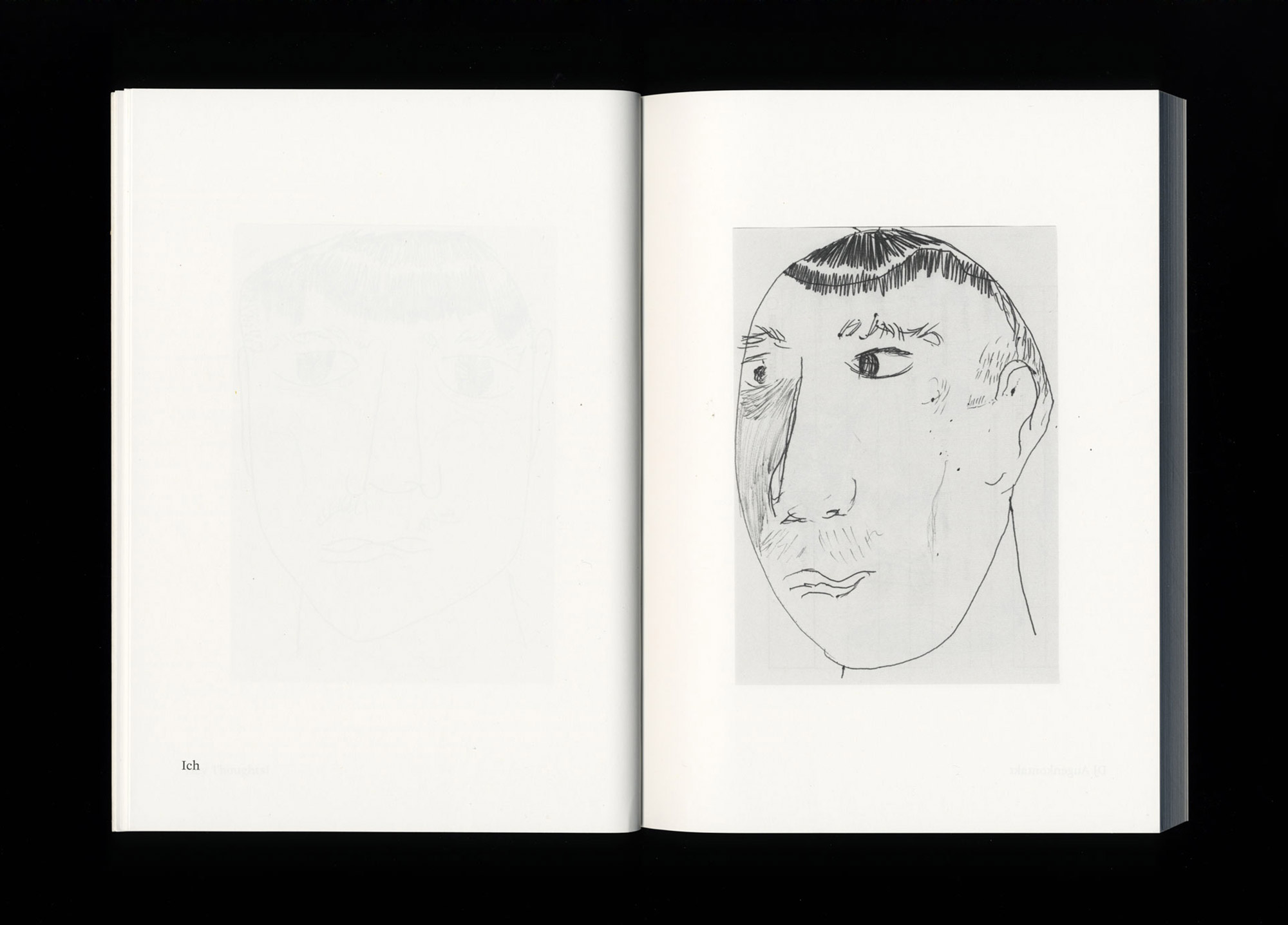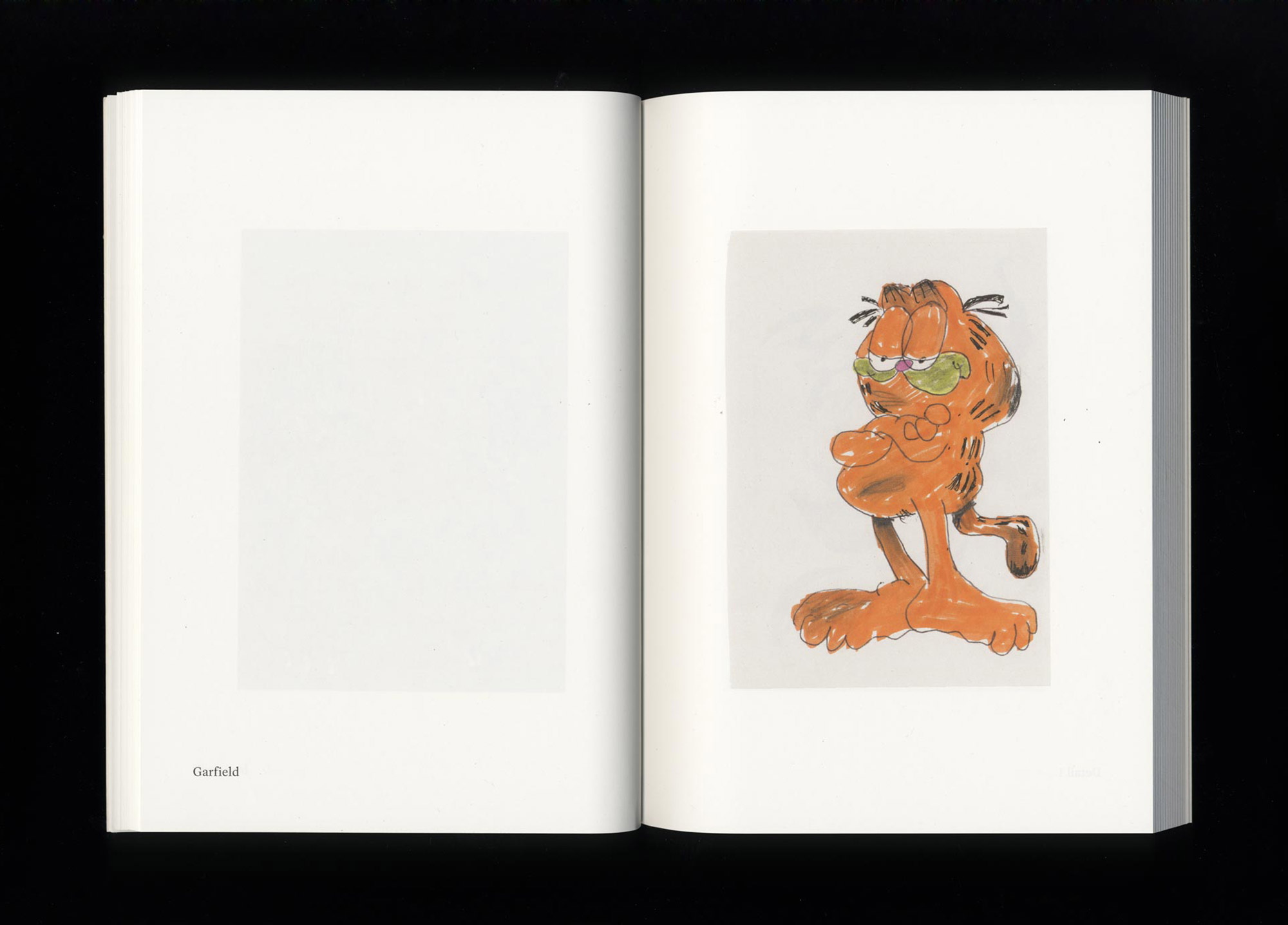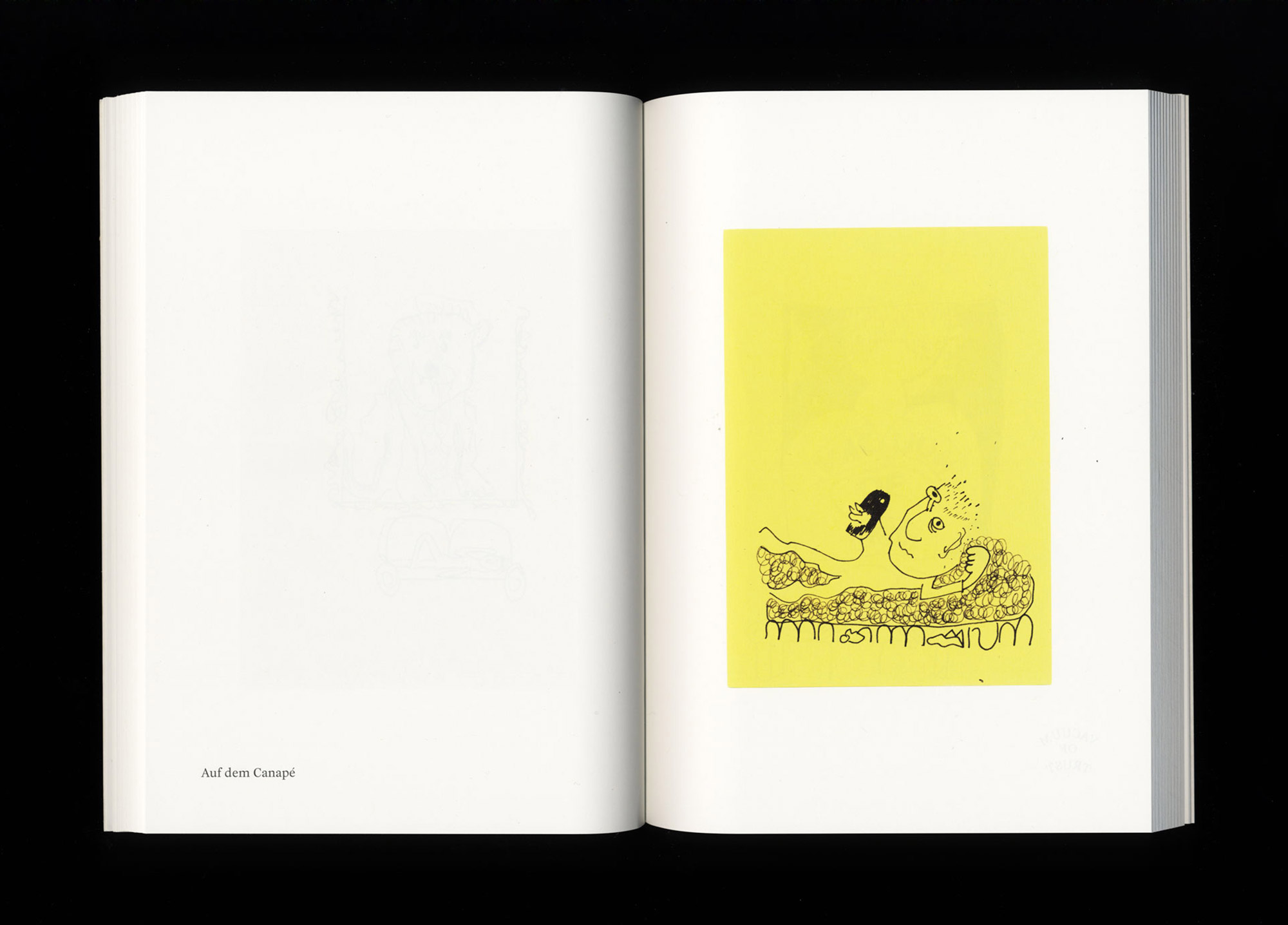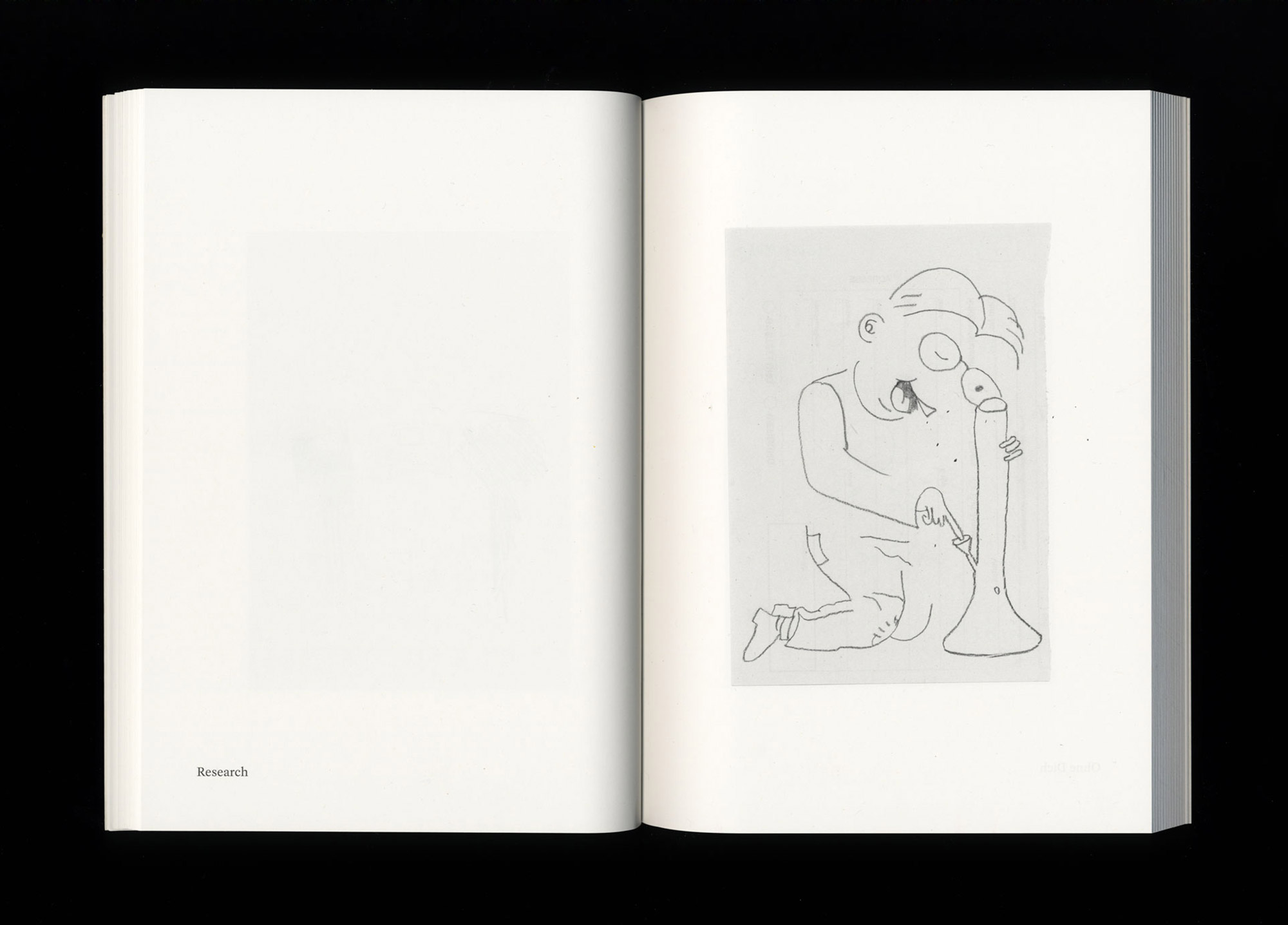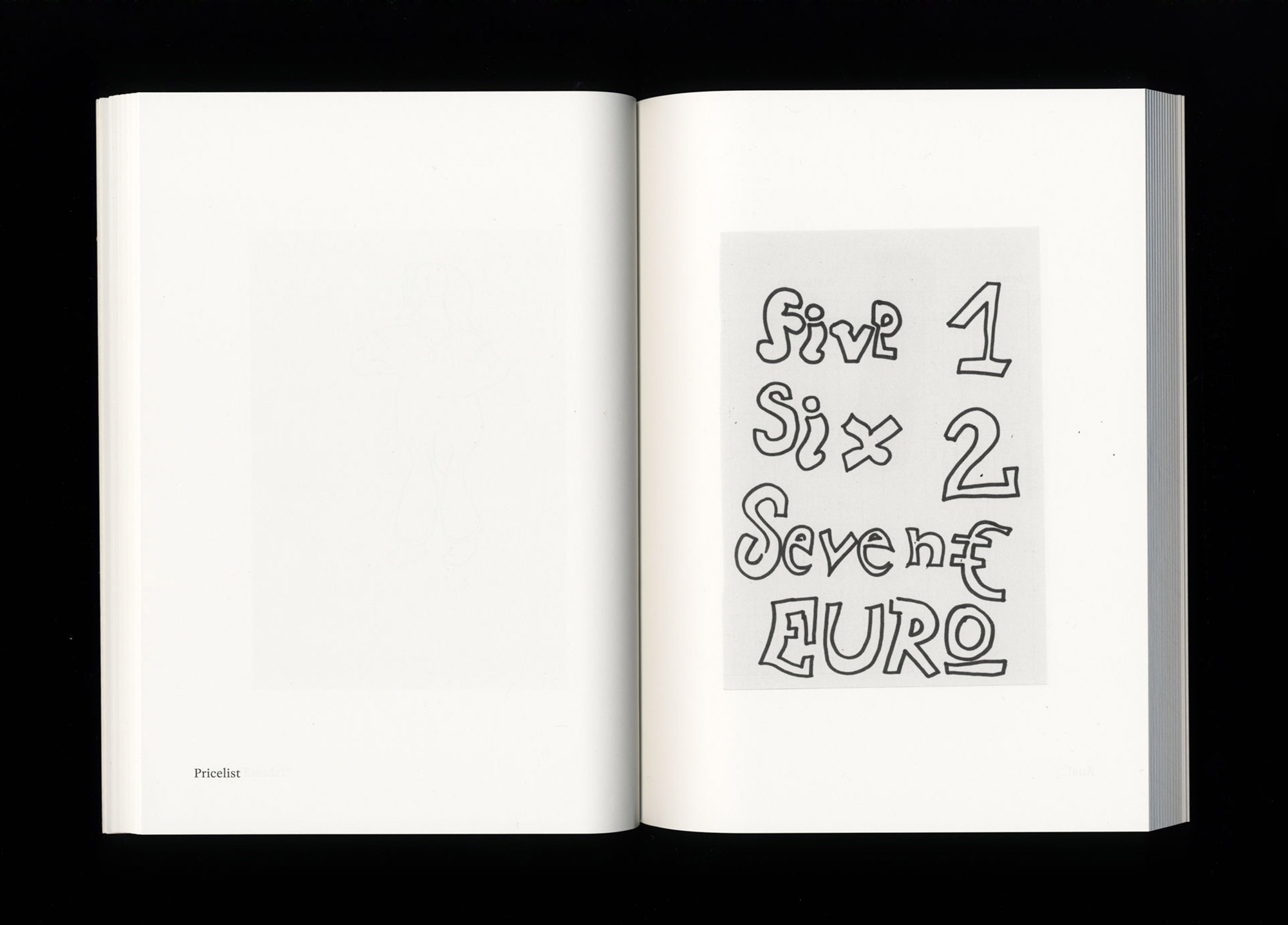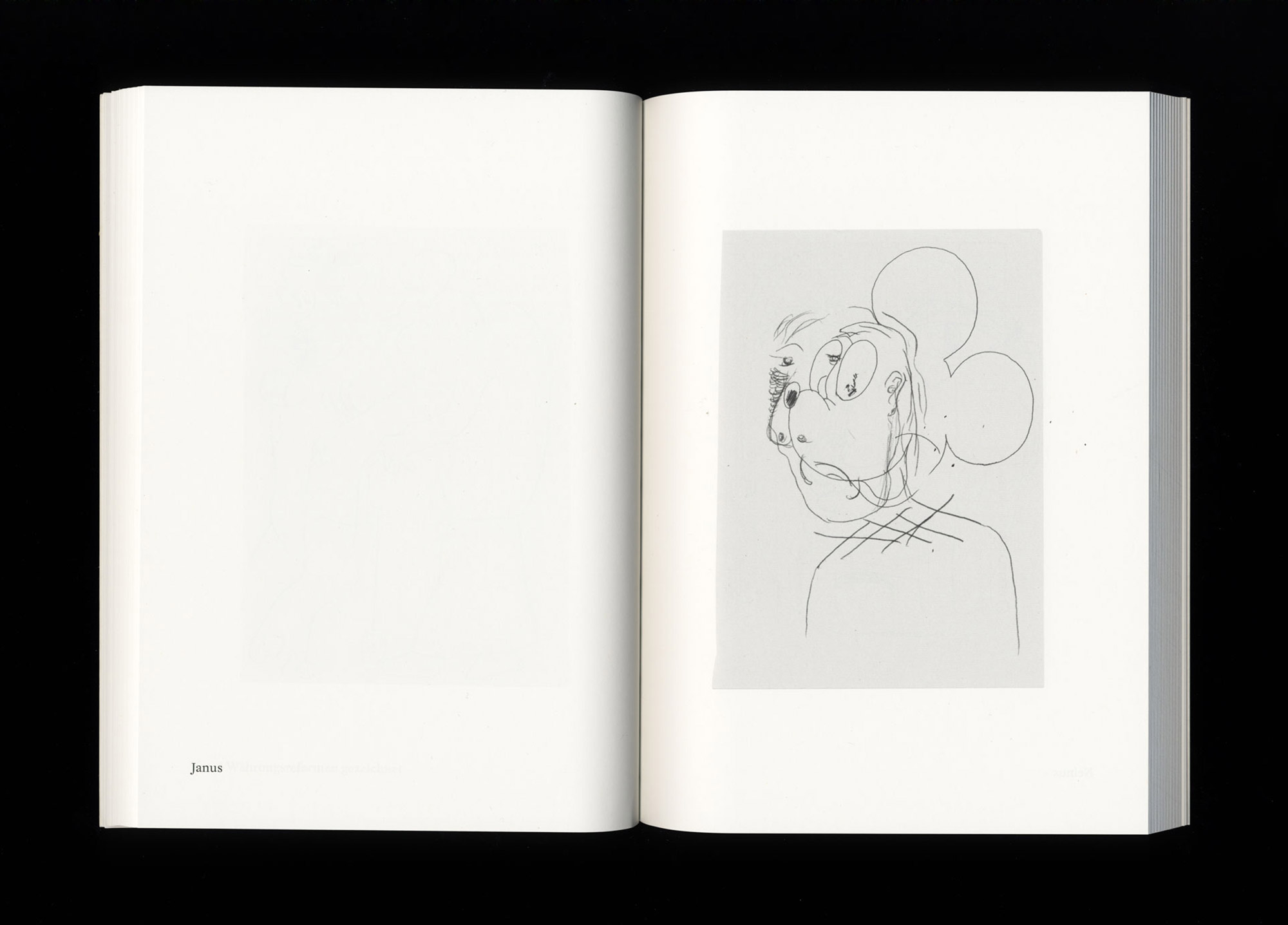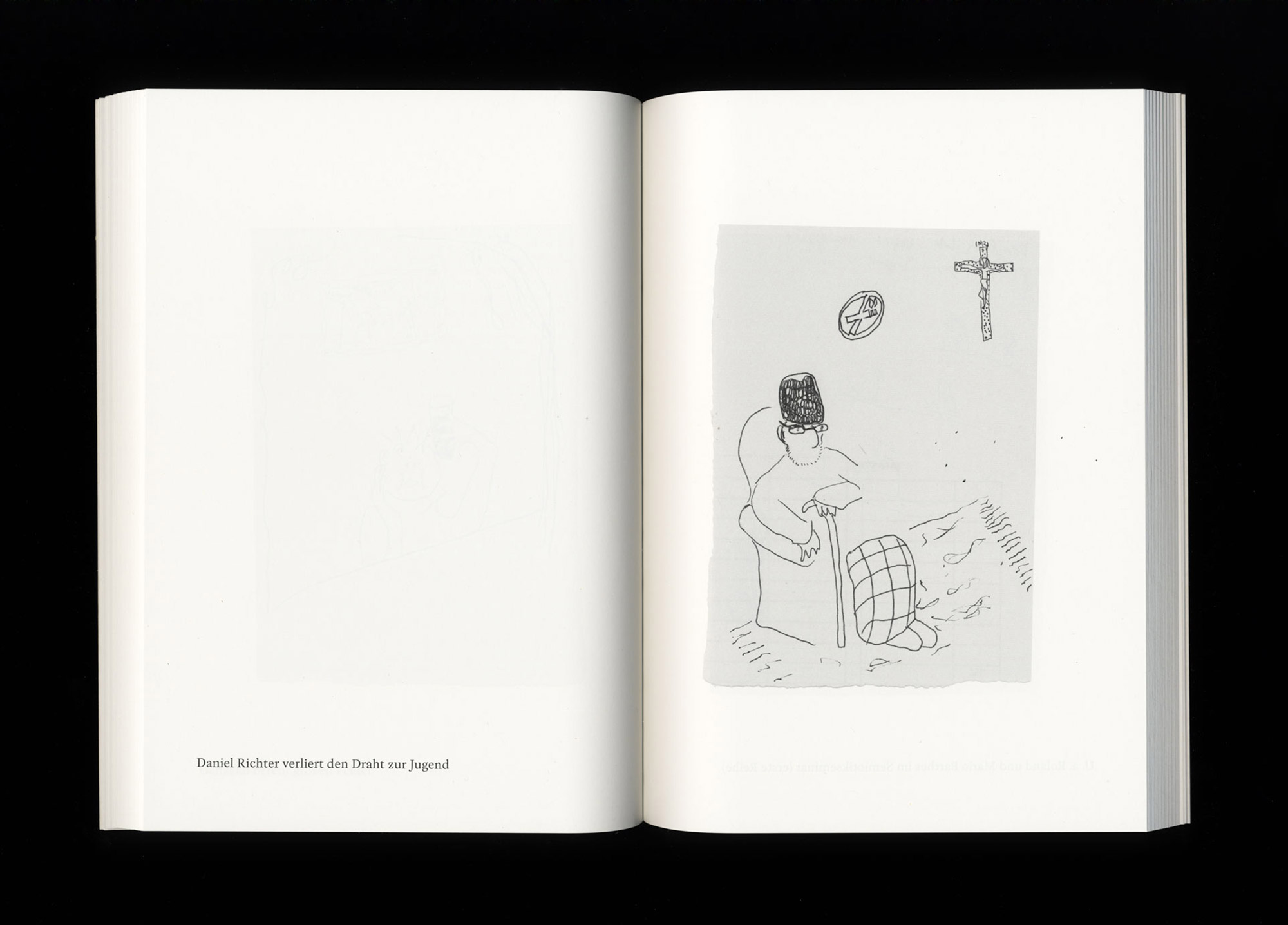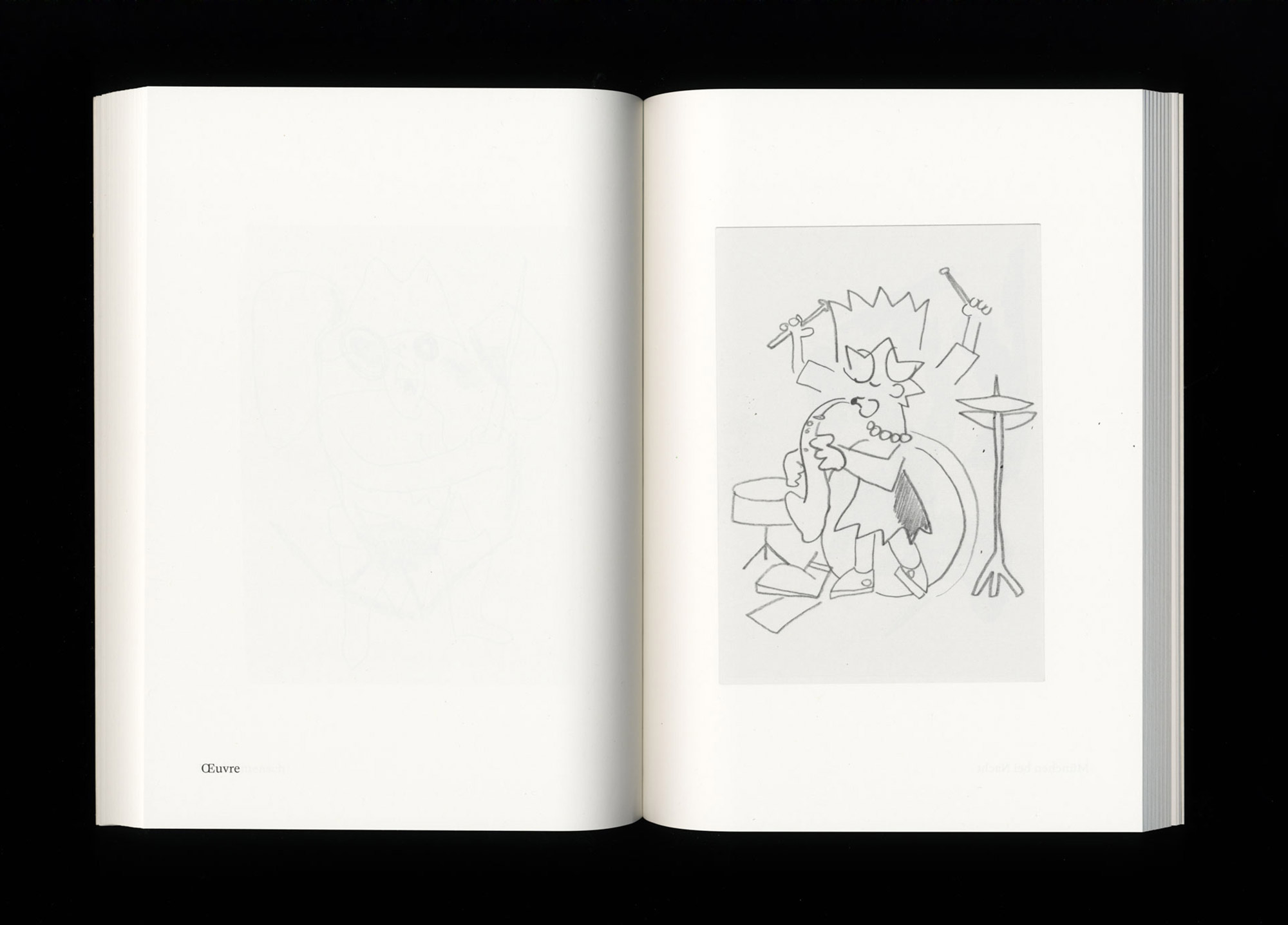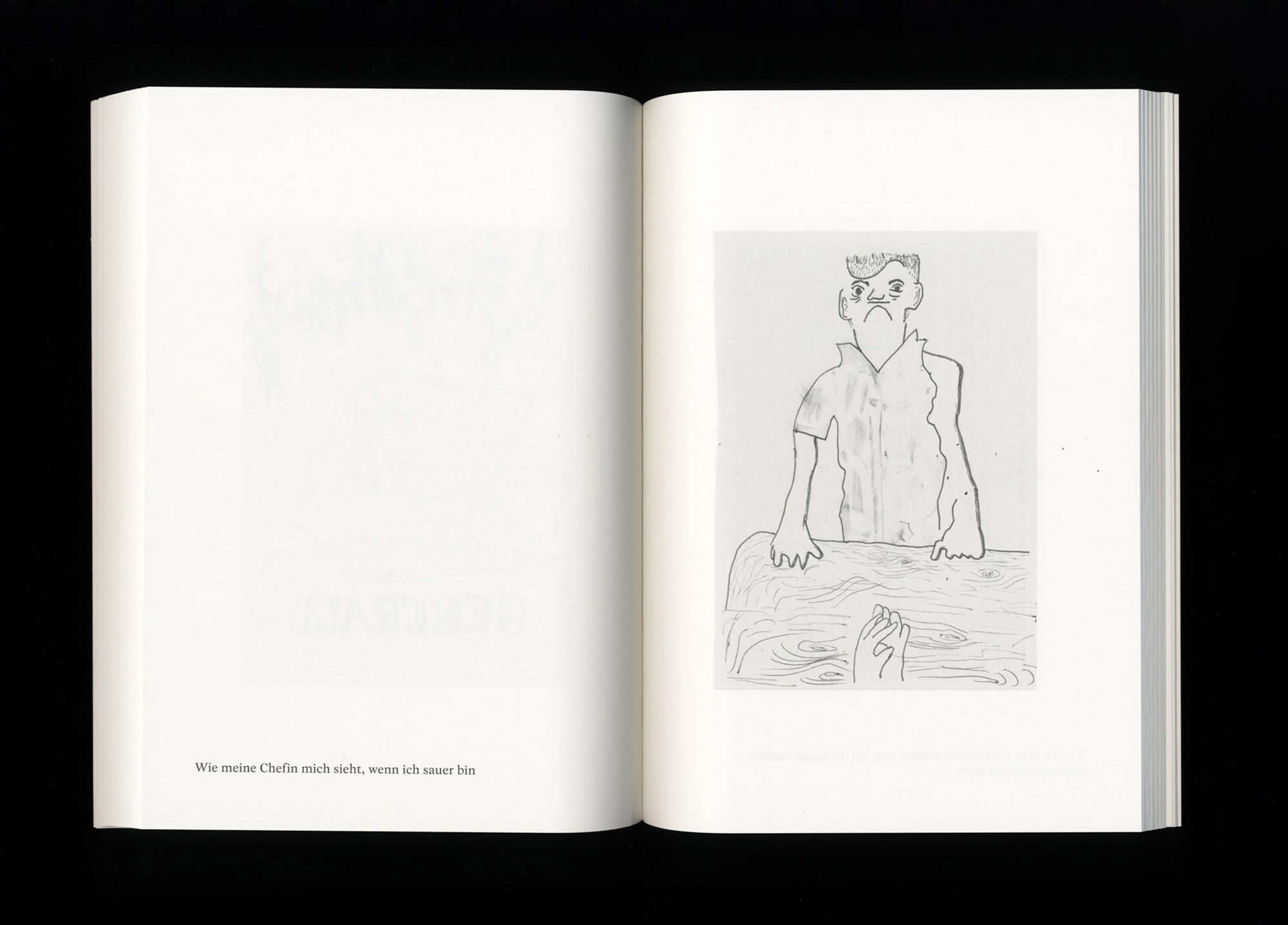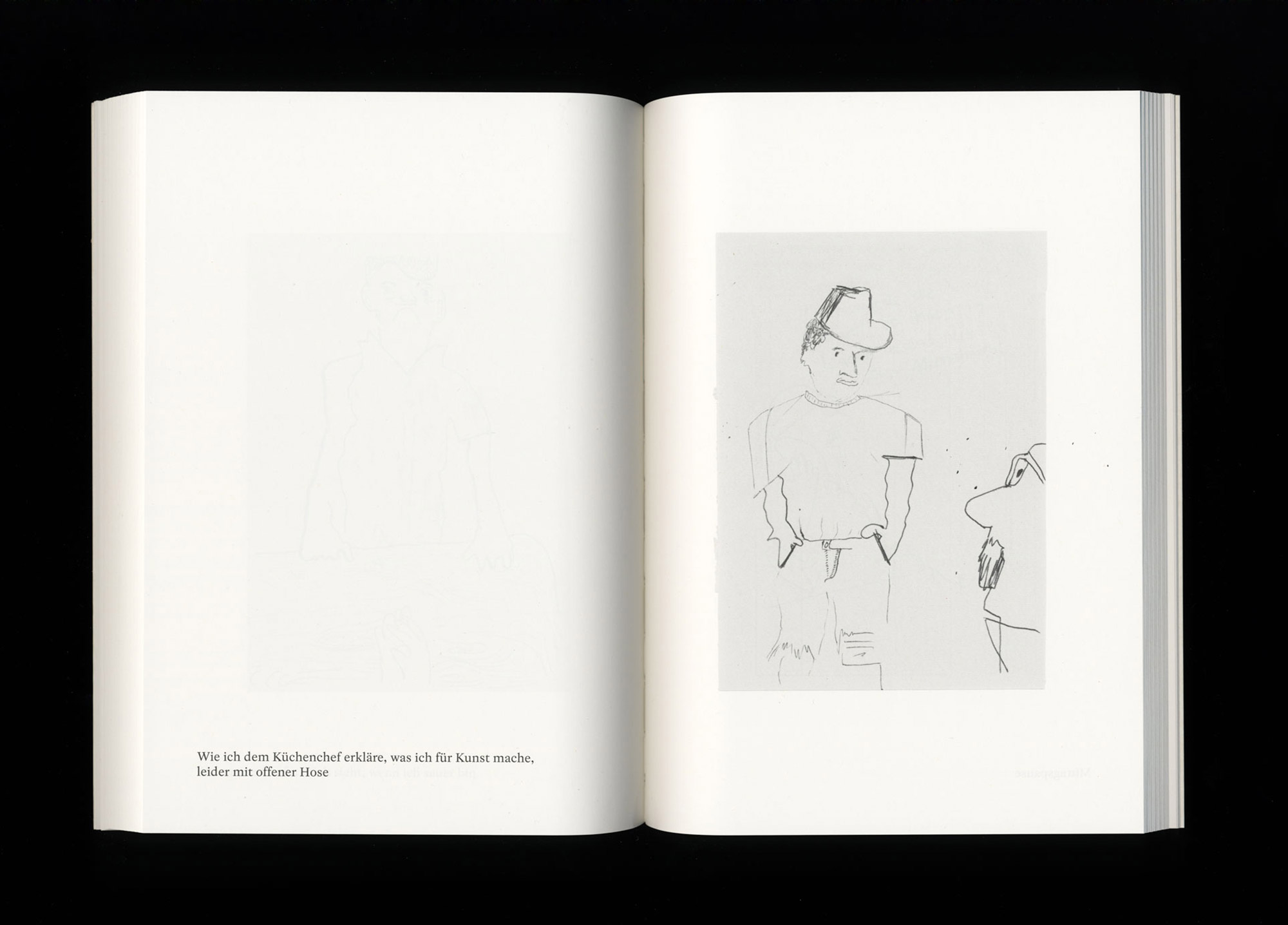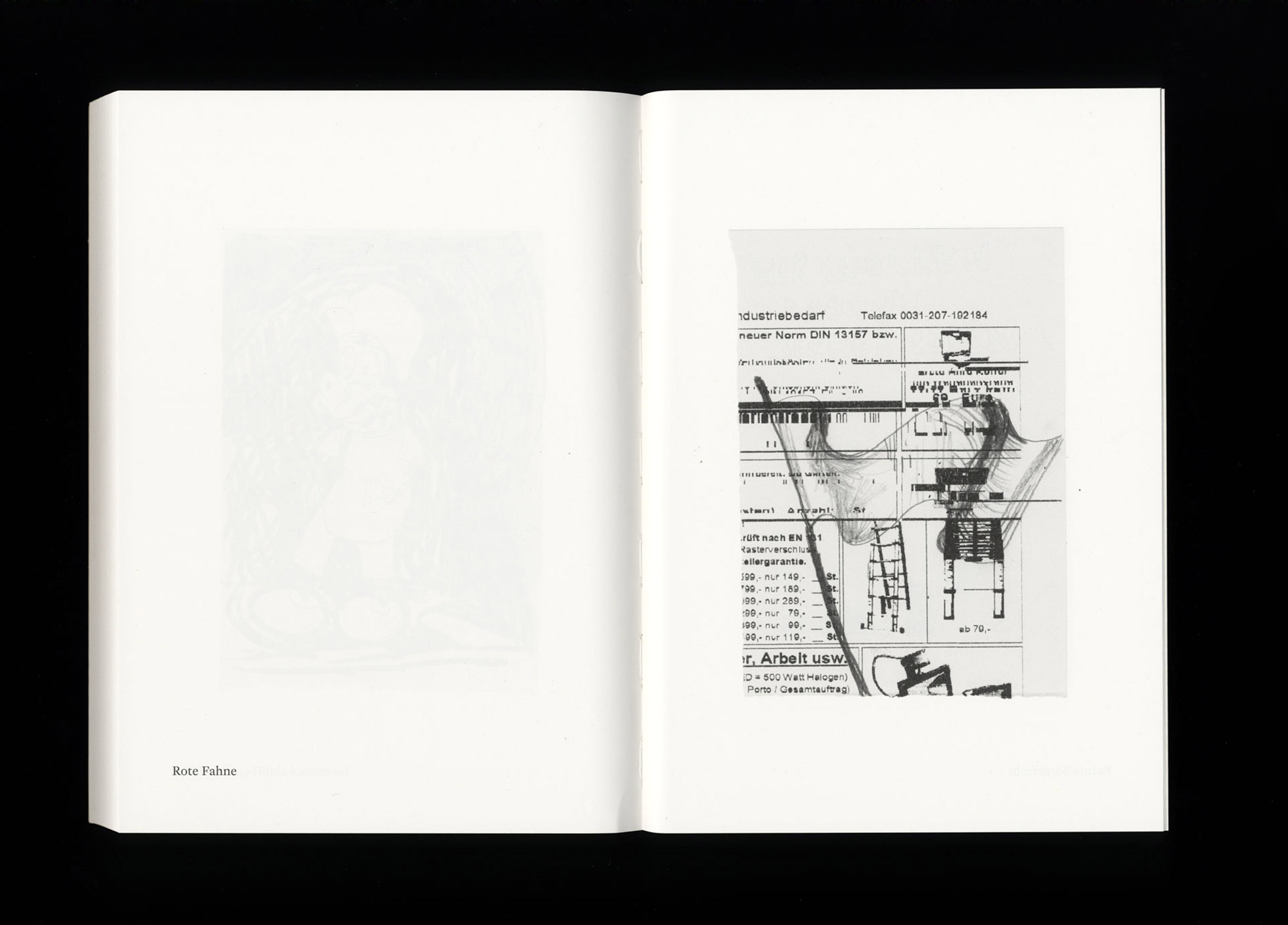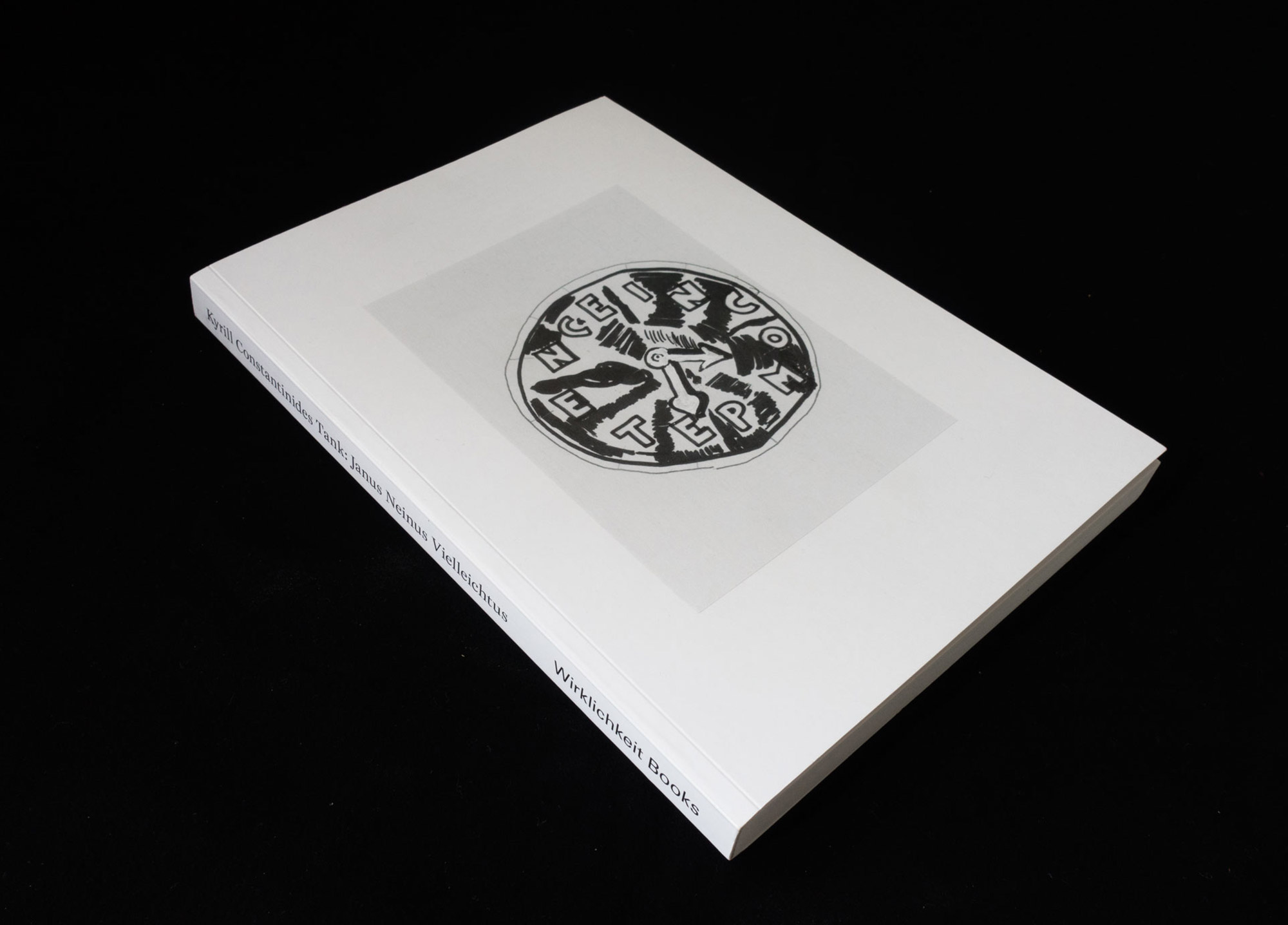 0 of 0
Kyrill Constantinides Tank
Janus Neinus Vielleichtus
Whilst working in a museum bookshop, ...
Kyrill Constantinides Tank
Janus Neinus Vielleichtus
Whilst working in a museum bookshop, artist and poet Kyrill Constantinides Tank draws on postcard-sized pieces of paper what he sees or comes to his mind. "The New Colleague," "How My Boss Sees Me, When I Am Angry," or "Daniel Richter Loses Touch With the Youth" show scenes of a work routine in the museum or ideas that arise in such a setting. They relate to a life between artistic creation and wage labour. But besides his subjective view, Constantinides Tank also brings the very common to paper: Garfield, Charizard and the Simpsons belong to everybody and have been drawn like this countless times. When there is a patch on the paper or the drawing itself becomes a technical experiment – as in "Fidget-Spinner Drawing": apparently the attempt to make a drawing with a fidget spinner – it becomes obvious that the author trained as a painter and constantly deals with the borders and possibilities of painting. By drawing them, Kyrill Constantinides Tank, in a Bavarian anti- bourgeois tradition, overcomes the daemons and banalities of labour, mass media and art history.
Kyrill Constantinides Tank is an artist and poet. He works in a Buchhandlung Walther König branch and is winner of the 26th Open Mike literature competition for poetry. He lives in Munich.
Press:
Sueddeutsche Zeitung
Download the pdf:
Janus_Neinus_Vielleichtus.pdf
Design: Rana Karan

22€
June 2019
ISBN 9783948200015
17 x 24 cm
312 pages
numerous black-white and colour illustrations
English, German
thread-sewn paperback
Edition of 400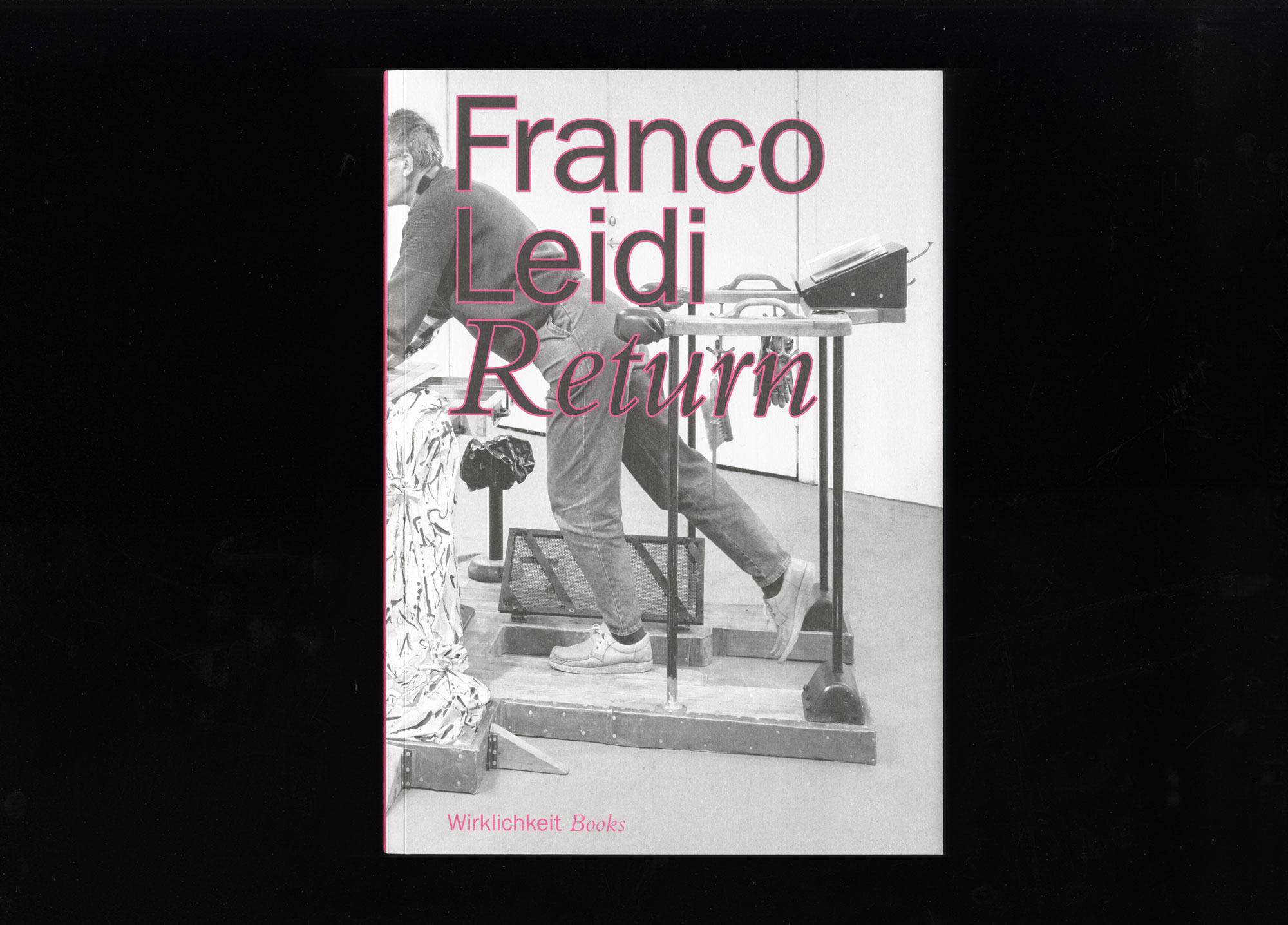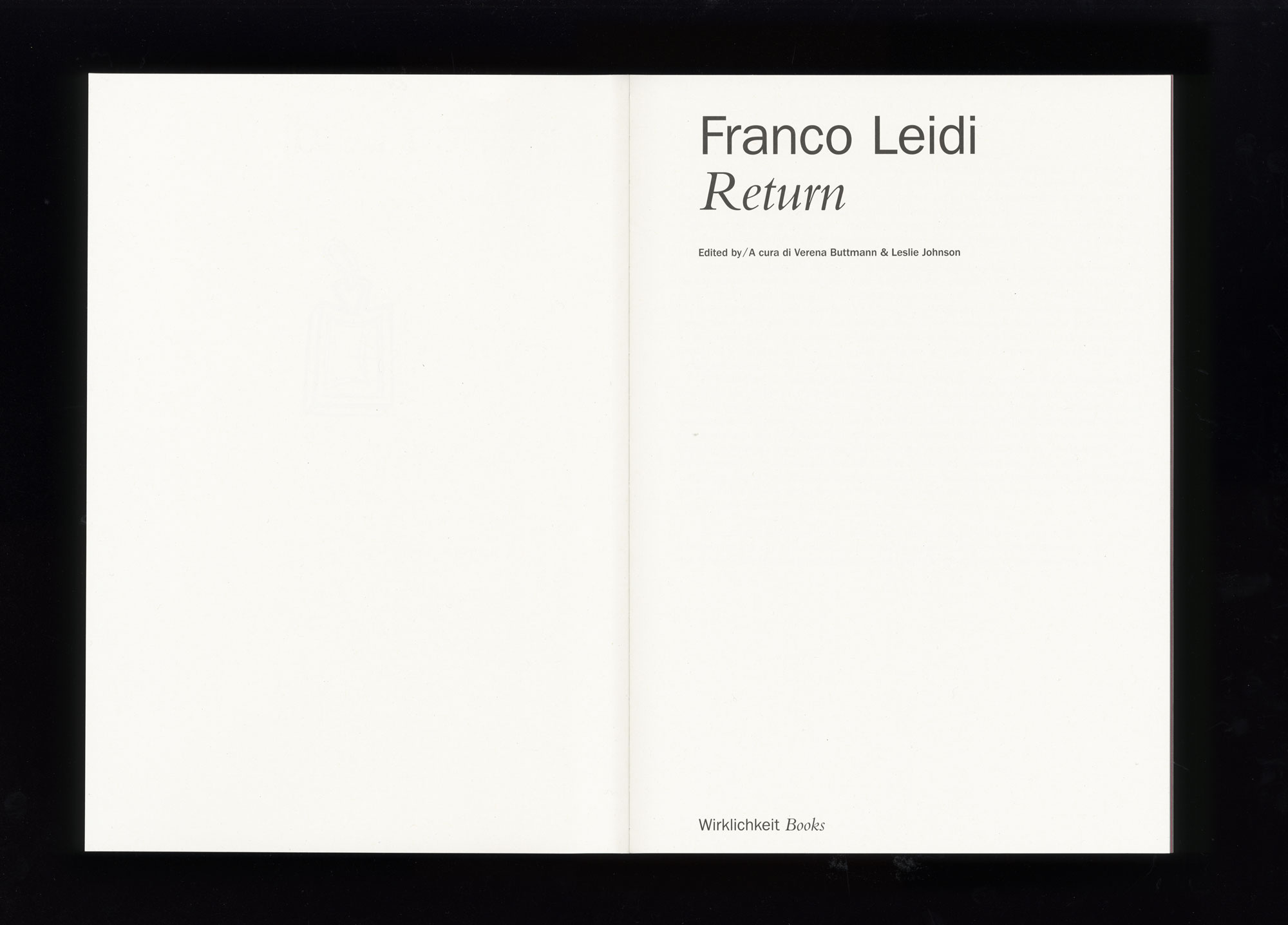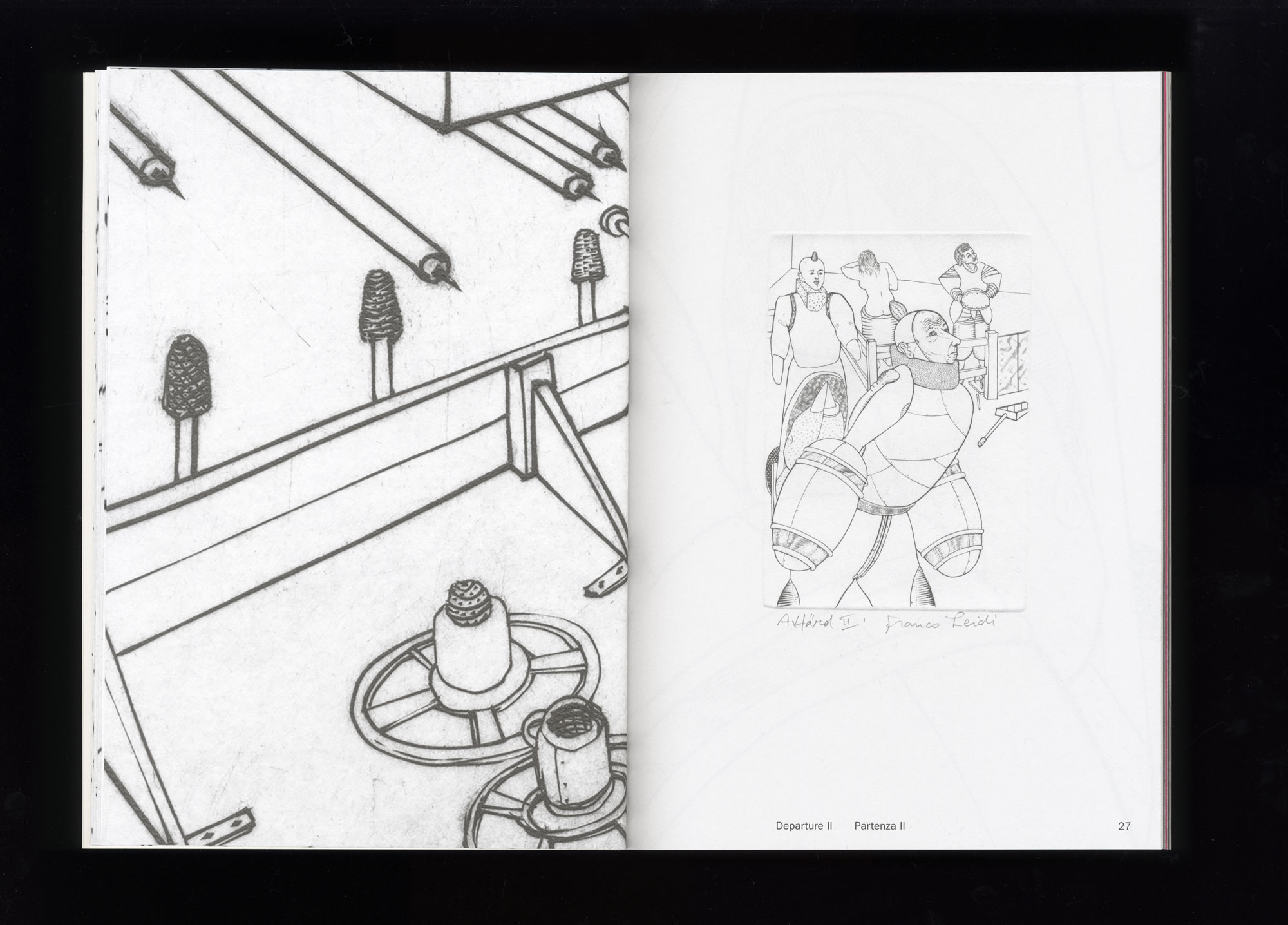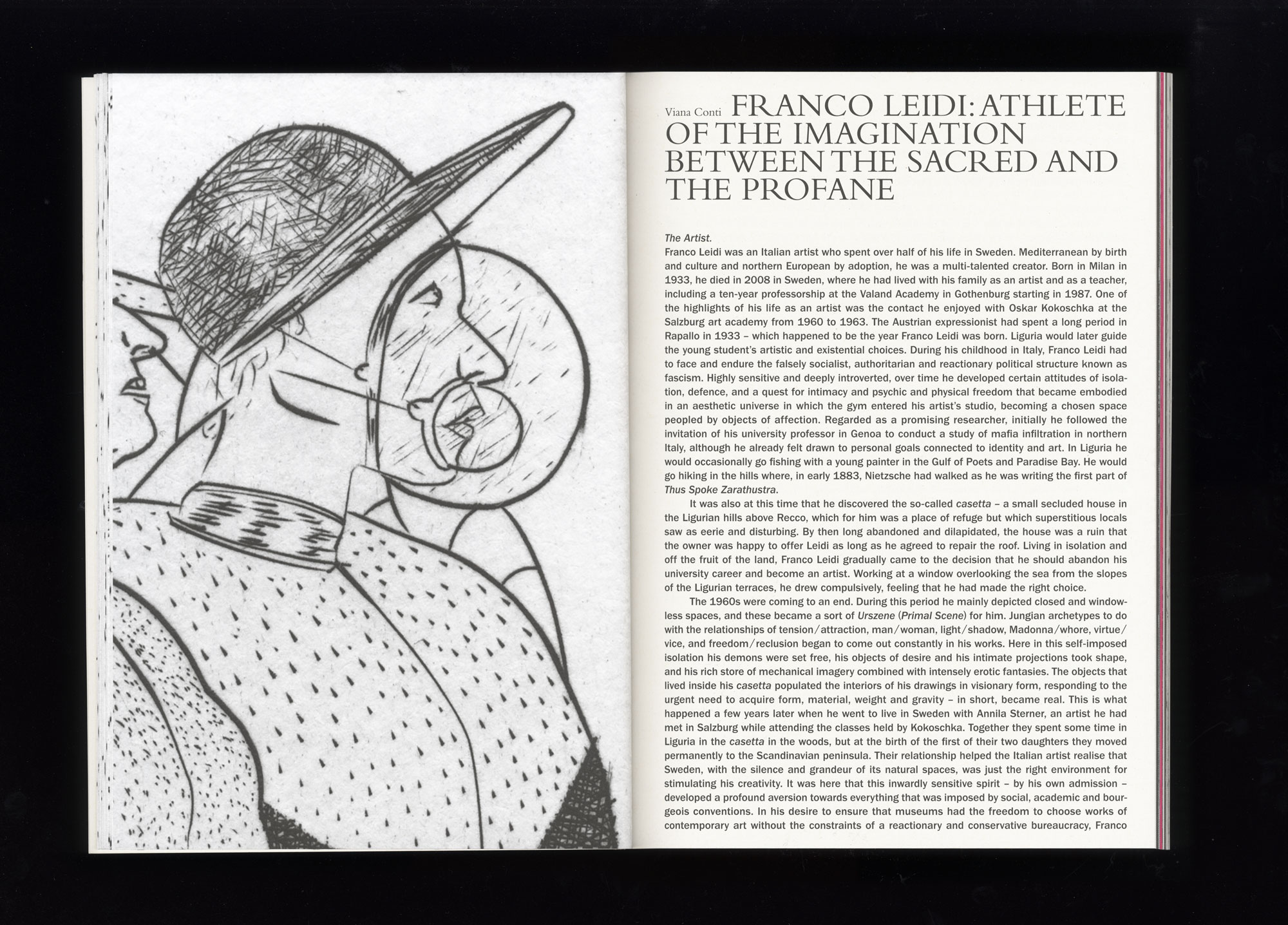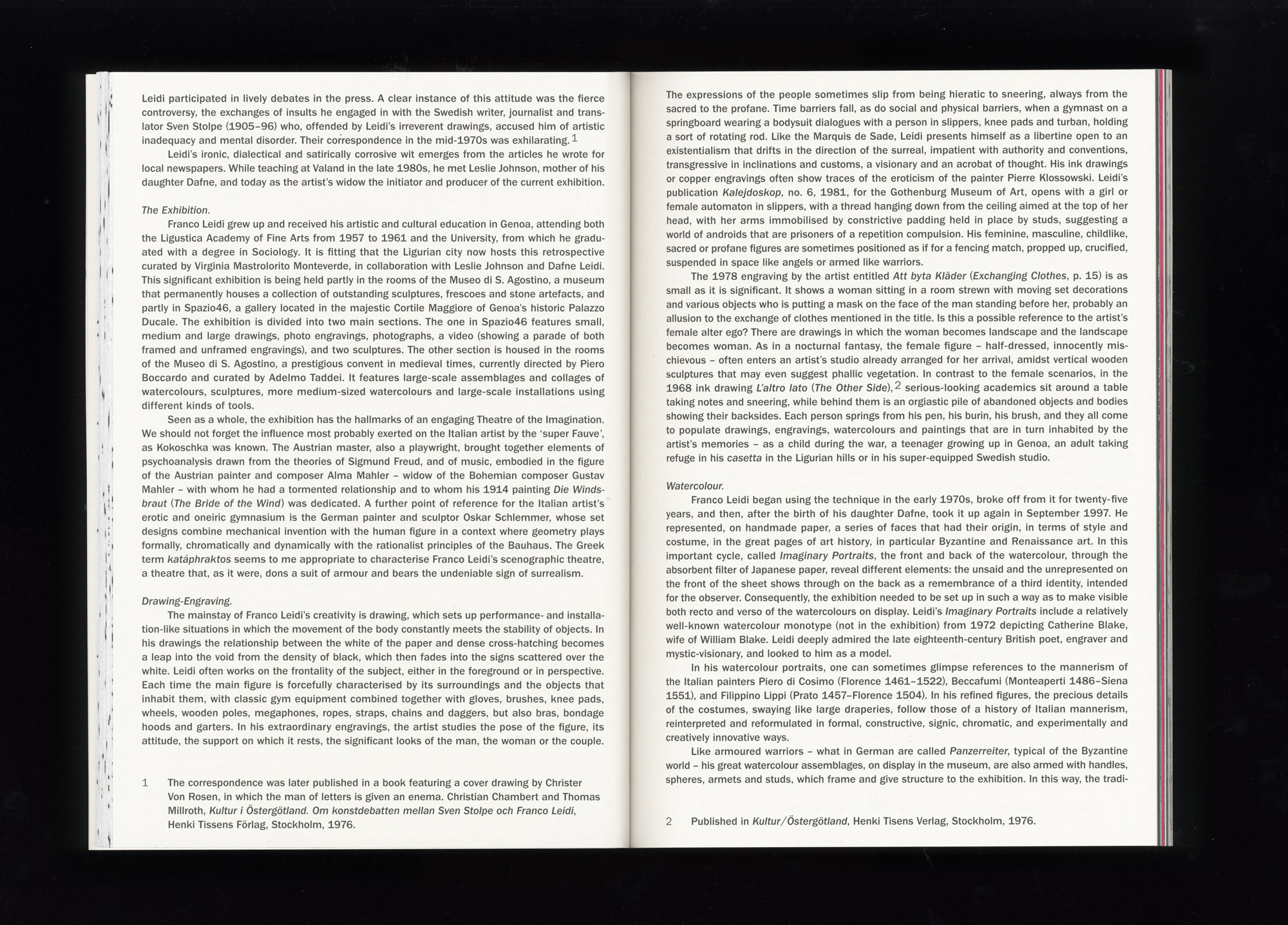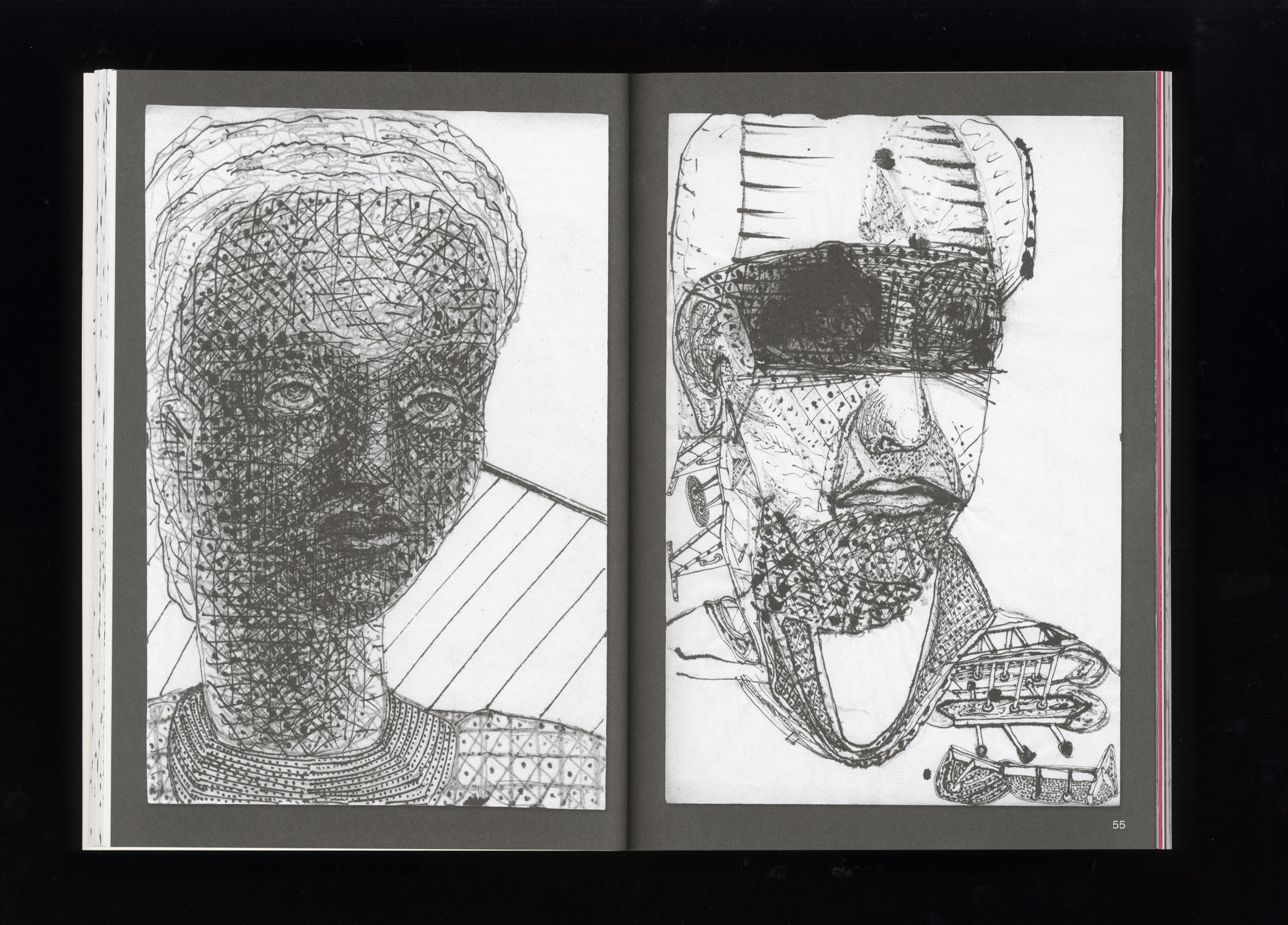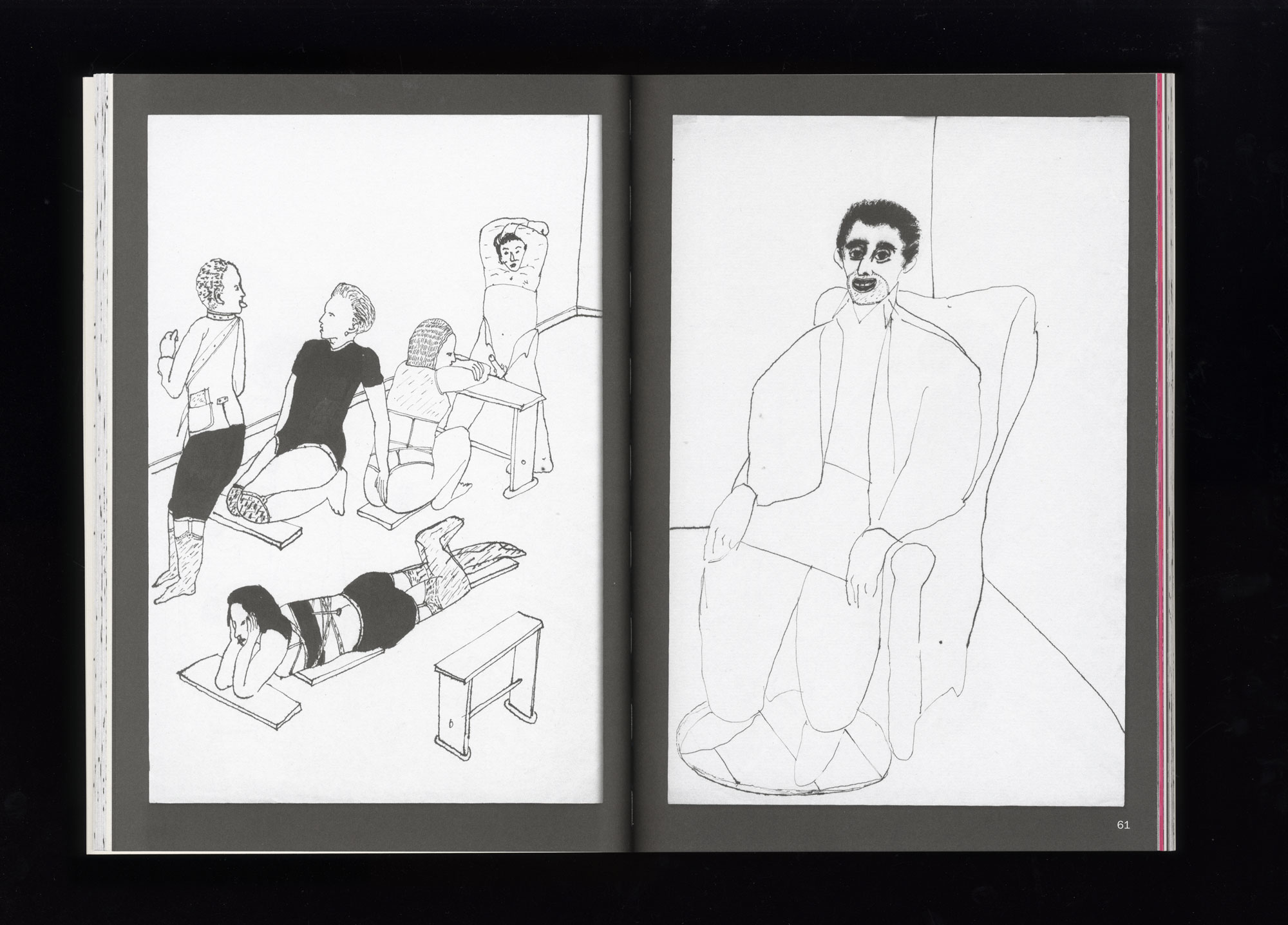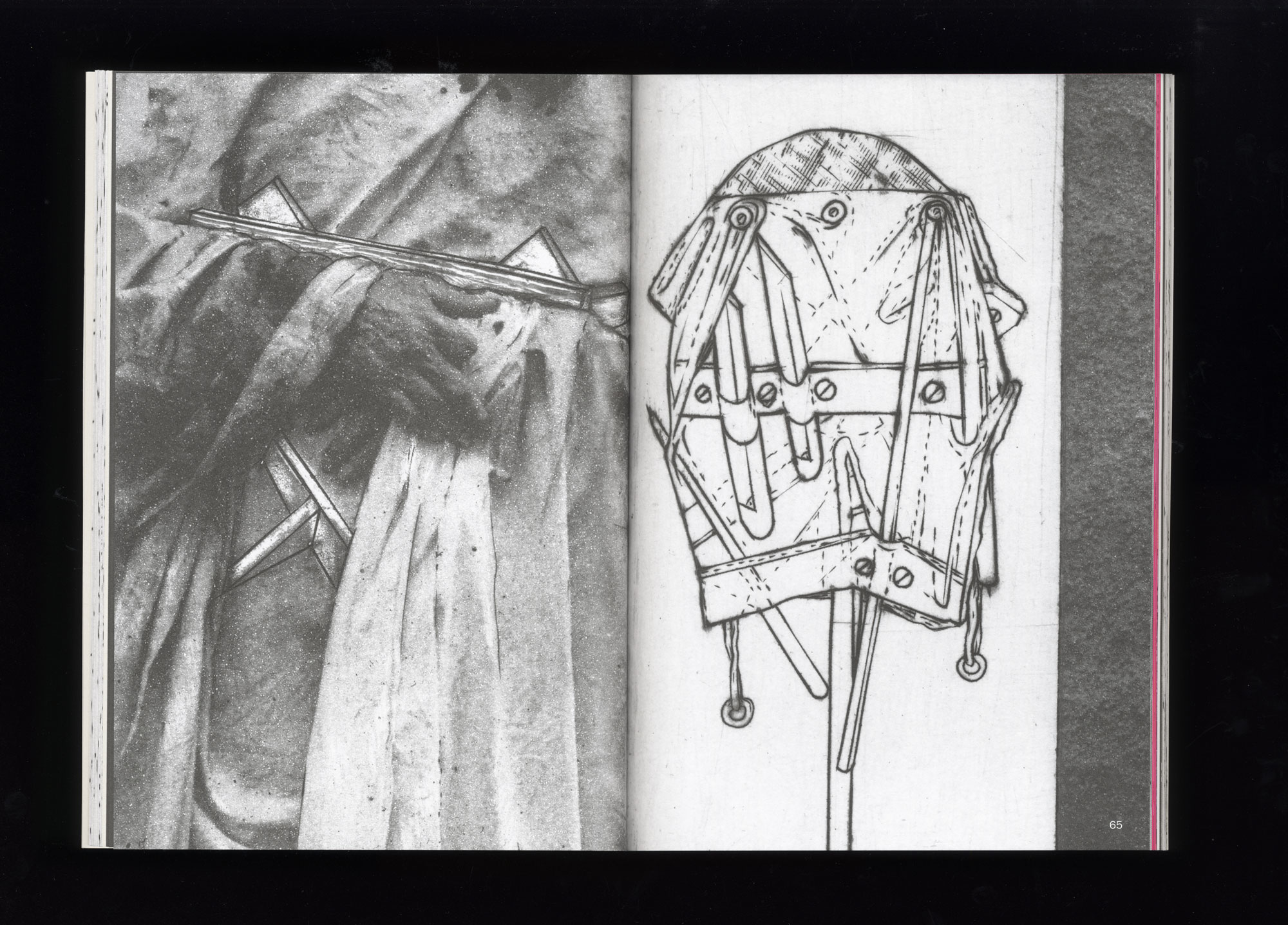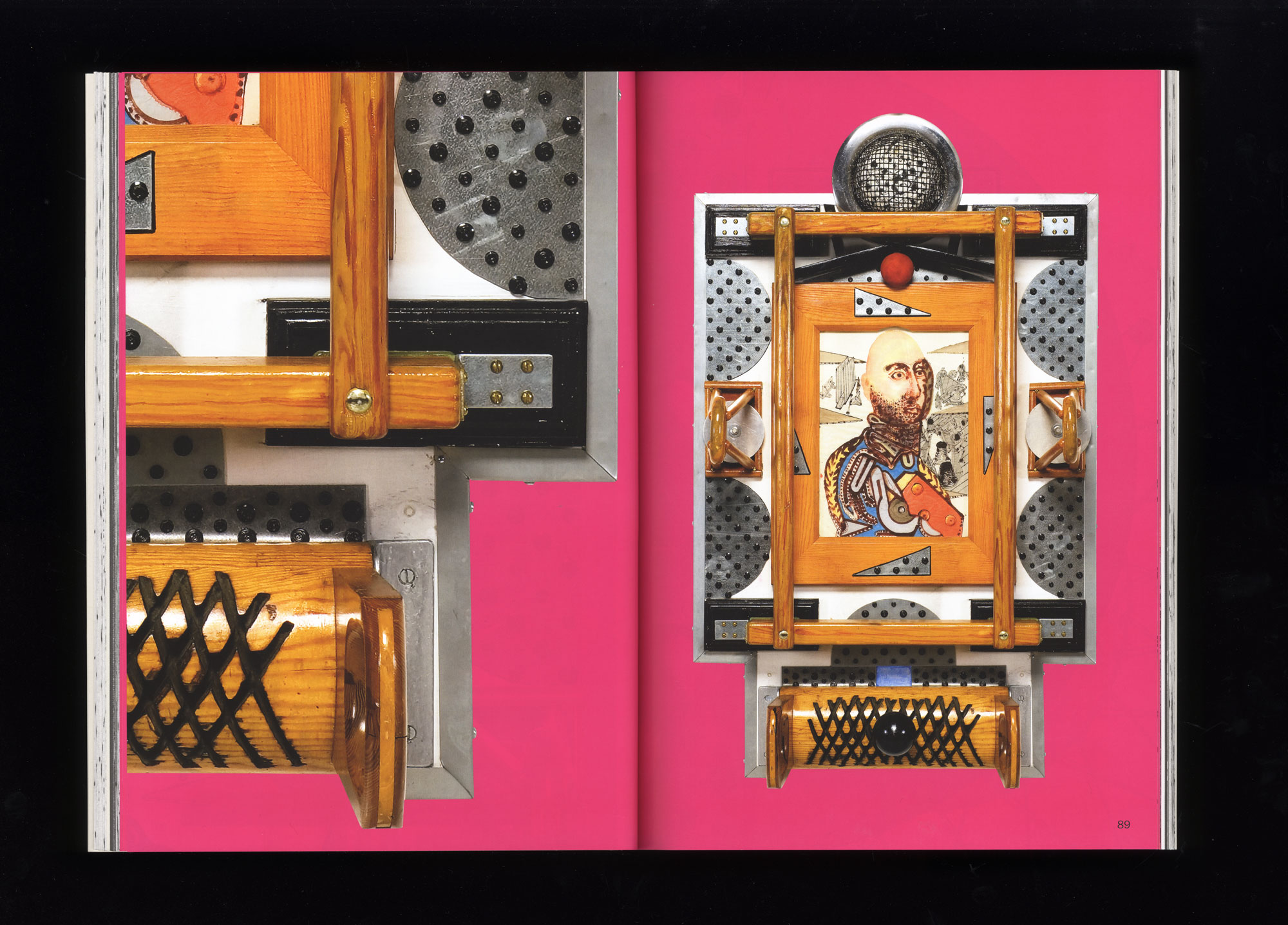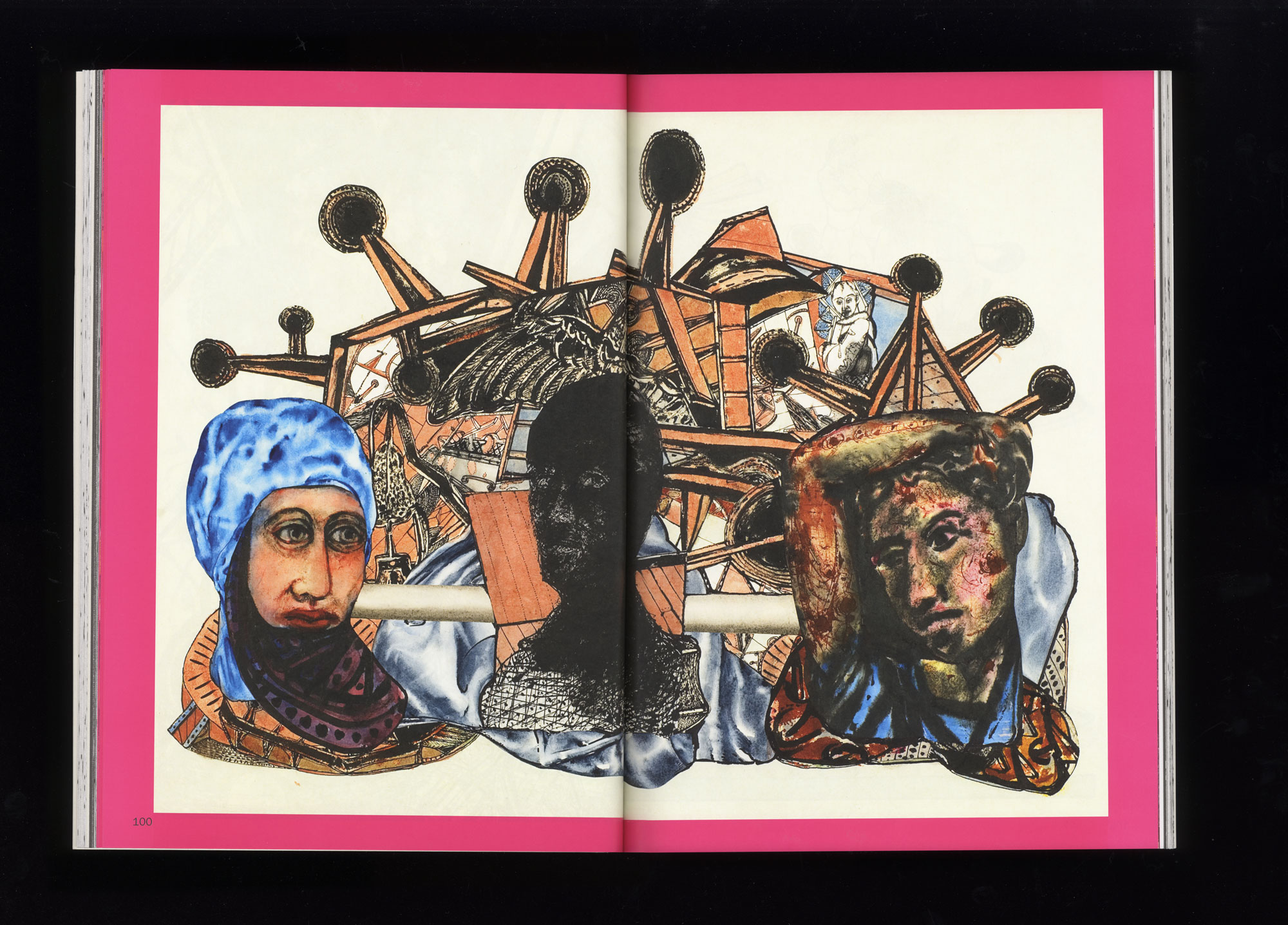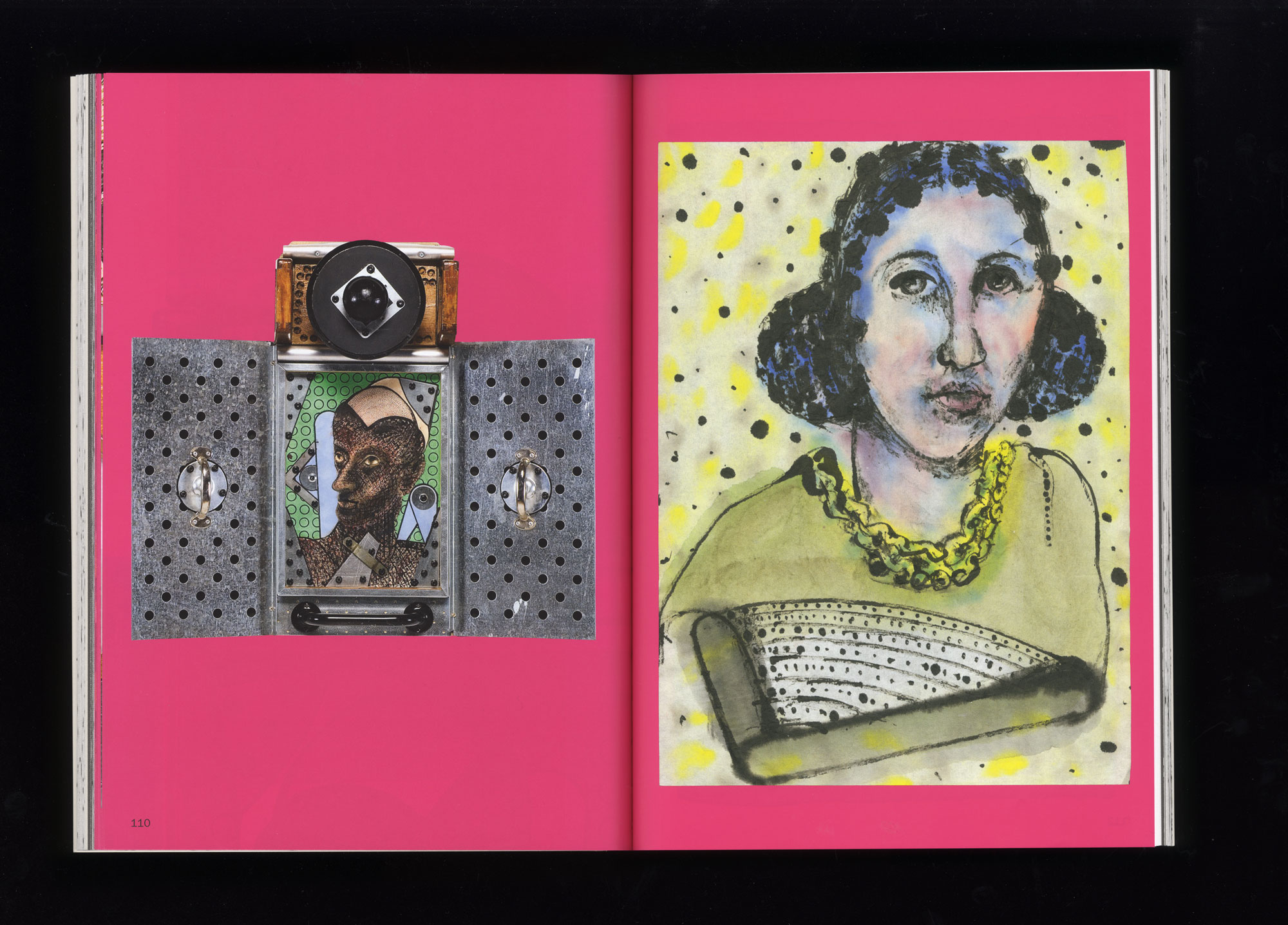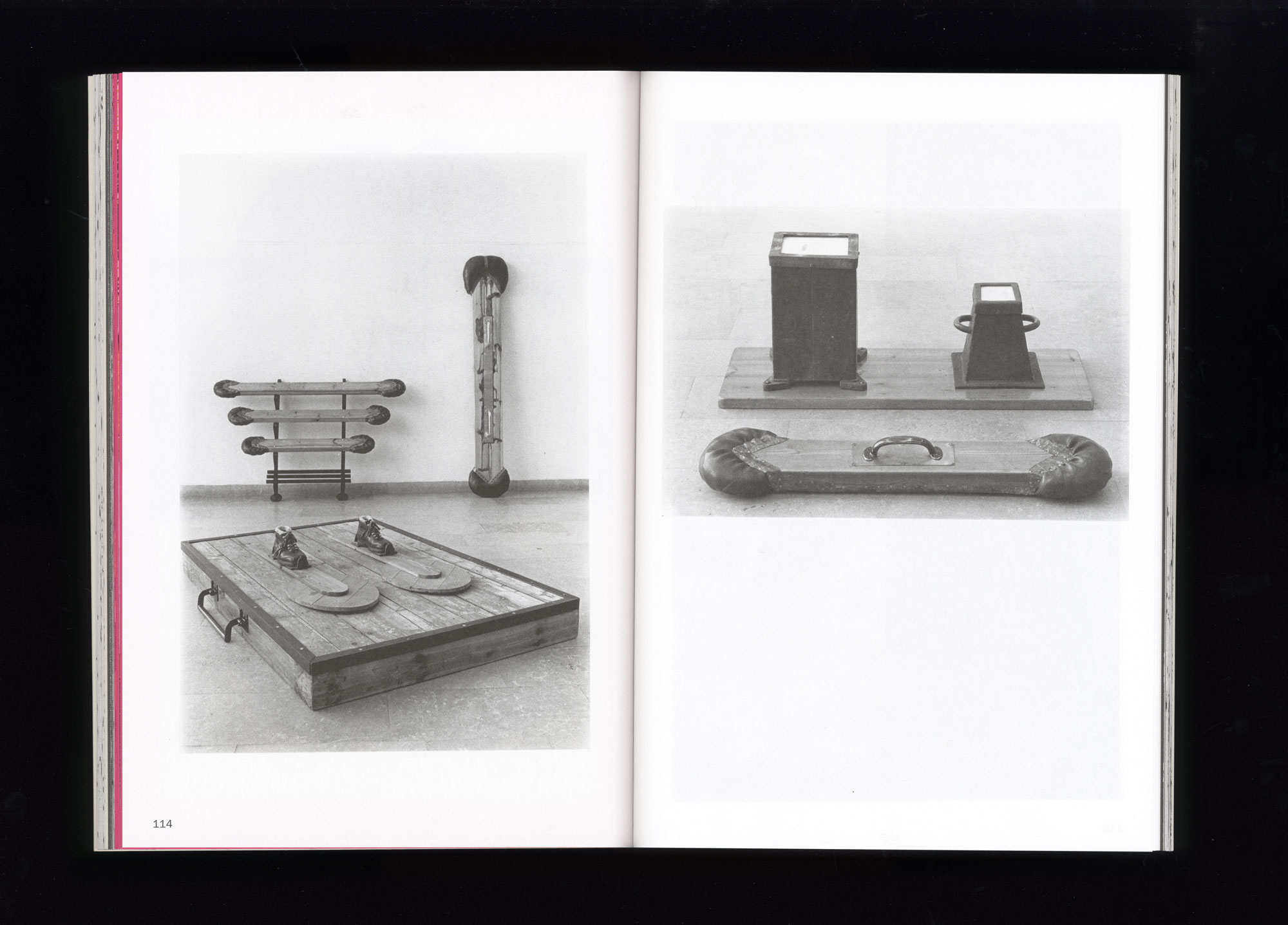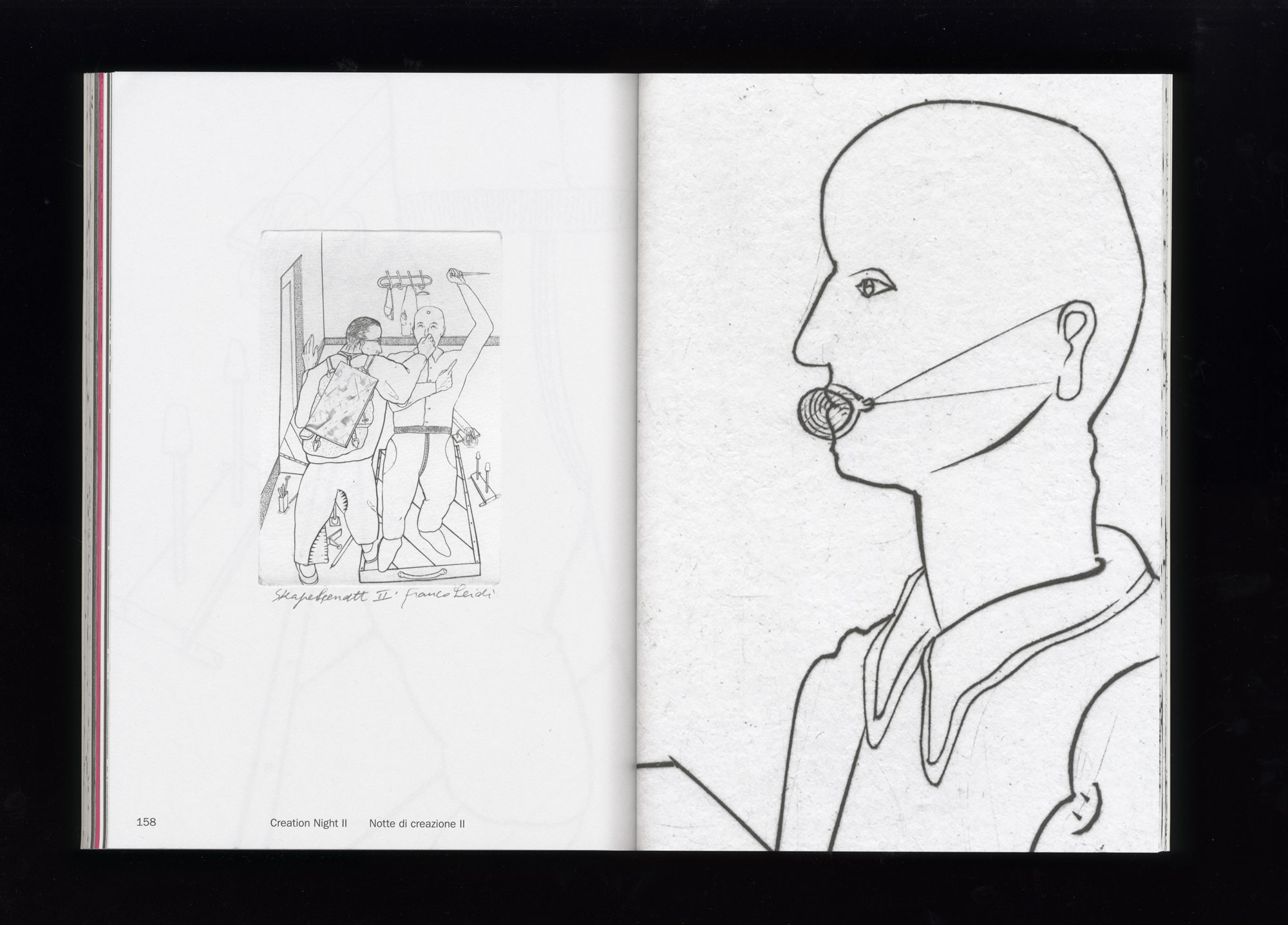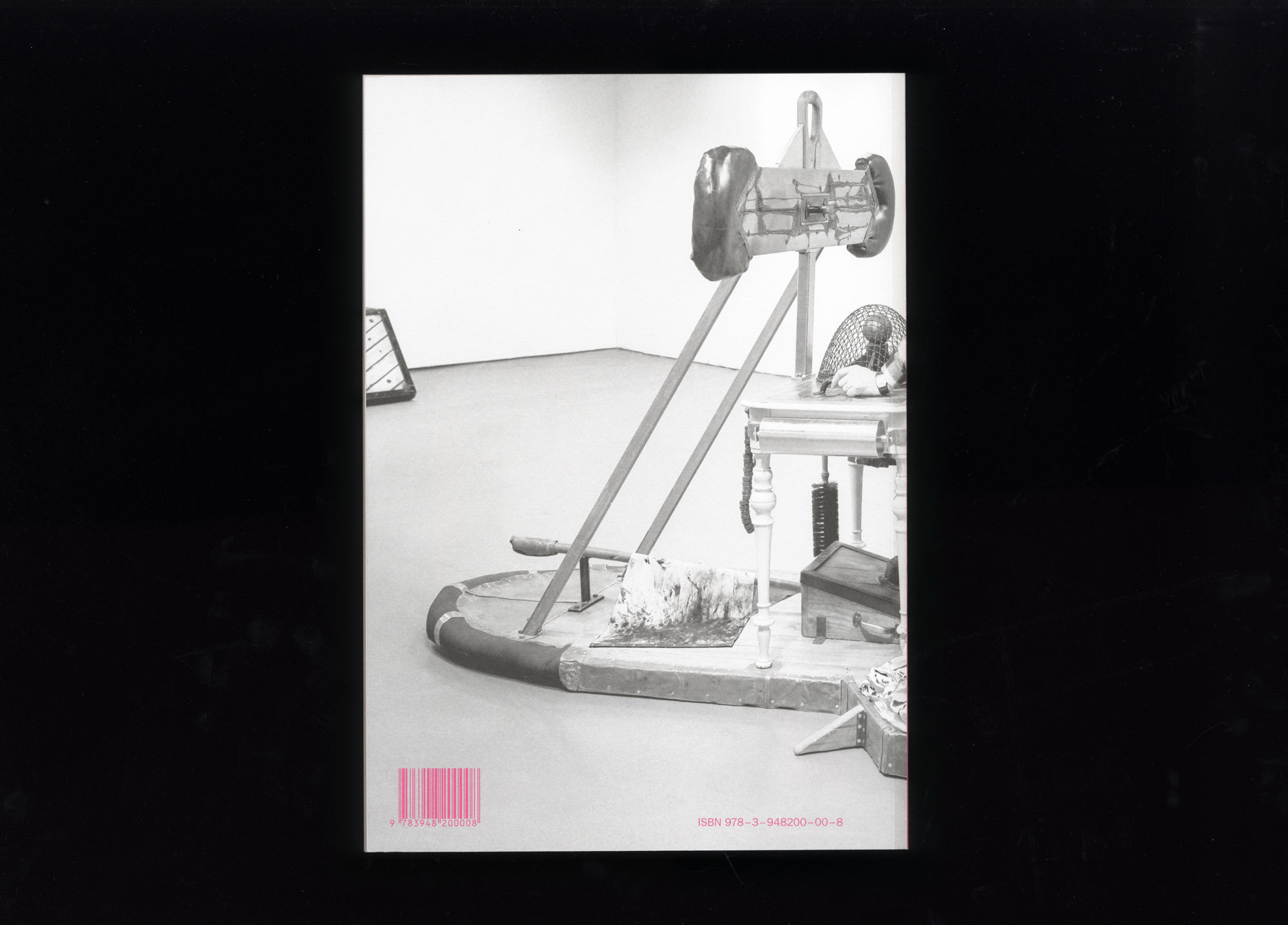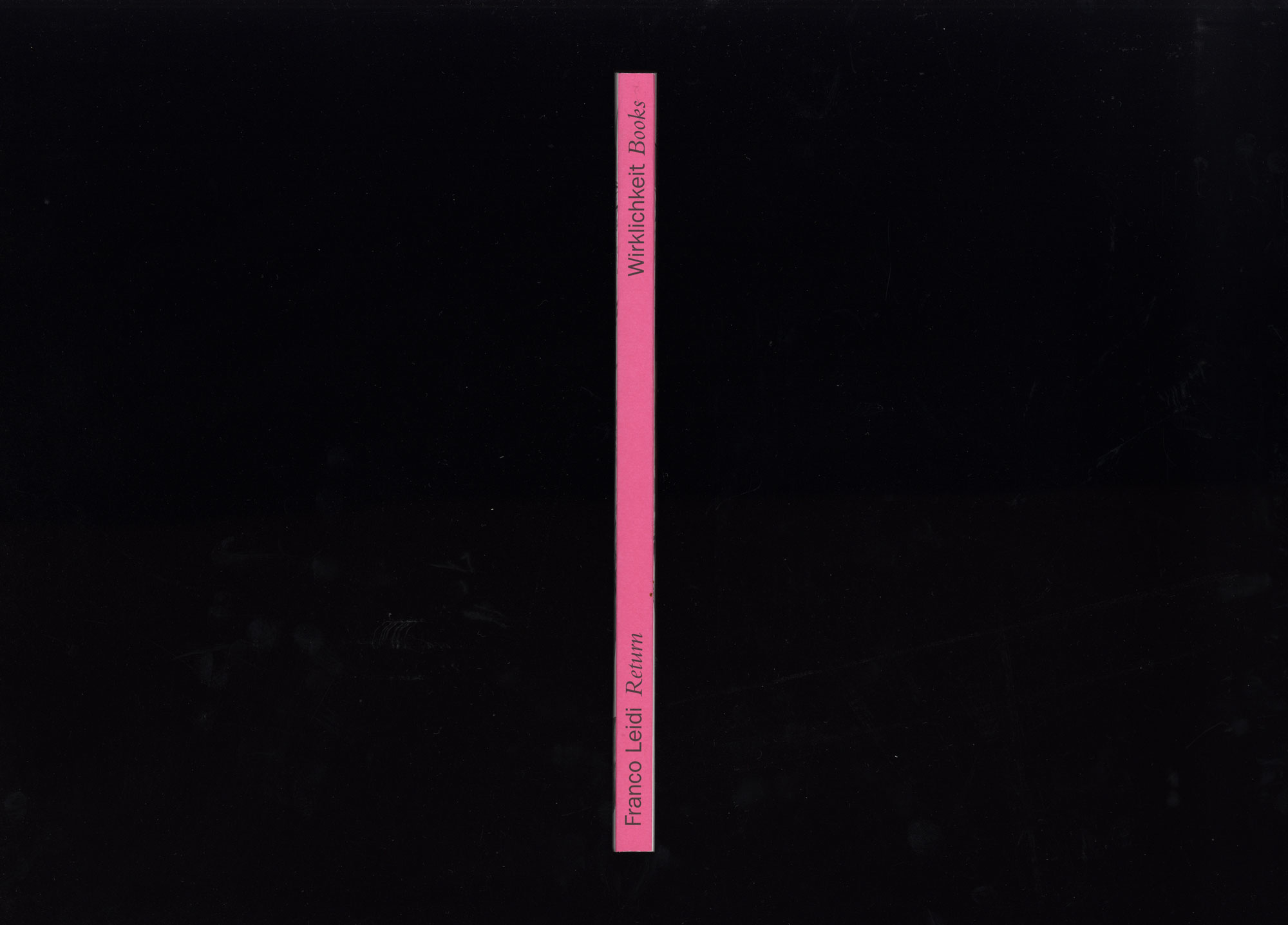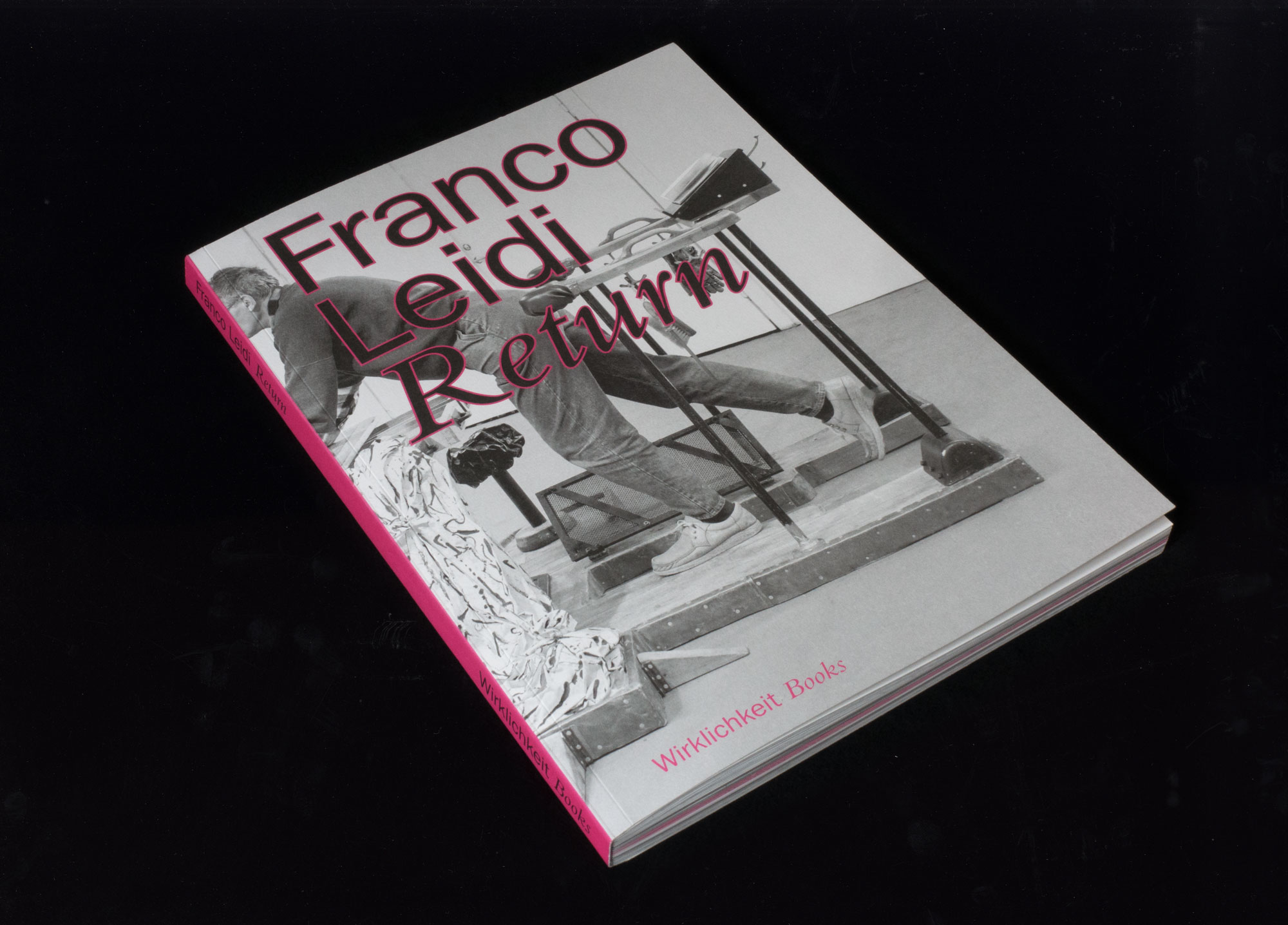 0 of 0
Franco Leidi
Return
The book Franco Leidi: Return is published on ...
Franco Leidi
Return
The book Franco Leidi: Return is published on the occasion of the retrospective and first exhibition of the artist Franco Leidi in Italy. Born in 1933 in Milan and grown up in Genova, Leidi emigrated to Sweden in the 1970s, where he became an established artist. He never exhibited his work in his country of birth during his lifetime. The work of Franco Leidi, a self- declared communist who was profoundly influenced by his childhood experiences of World War II in fascist Italy, evolves from drawing, print and watercolour into sculpture and installation. While his late works – portraits in watercolour, often combined with collage – offer a complex iconographic reference system, his early production is characterized by multi-layered representations of power and oppression: men, women, furniture and tools are trapped in a hermetic system, in which they struggle against and exert violence upon one another. The erotic fantasies of a male subject, physical exercise and the simple beauty of a dialogue determine the play of these figures and objects; sometimes it is about life and death, sometimes about the banal being together.
Franco Leidi: Return takes the artist's posthumous homecoming as an opportunity to examine his work through the lens of the present day and show its relevance to the current political and cultural context. Besides numerous black/white and colour images, the publication includes a foreword by Verena Buttmann and texts by Viana Conti, Leslie Johnson and Jörgen Svensson.
Editors: Verena Buttmann, Leslie Johnson
Text: Verena Buttmann, Viana Conti, Leslie Johnson, Jorgen Svensson
Design: Studio Yannick Nuss

30€
March 2019
ISBN 9783948200008
21 x 29,7 cm
184 pages
120 black-white and 25 colour illustrations
English, Italian
thread-sewn paperback
Edition of 500